Recipes
Grilled Scallion Potato Salad
This recipe lends a fresh, gourmet twist to the typical potato salad. The grill adds a subtly smoky caramelization to green onions and new potatoes – transforming a classic, creamy potato salad into a cookout masterpiece. Served warm or cold, you'll love this grilled potato salad.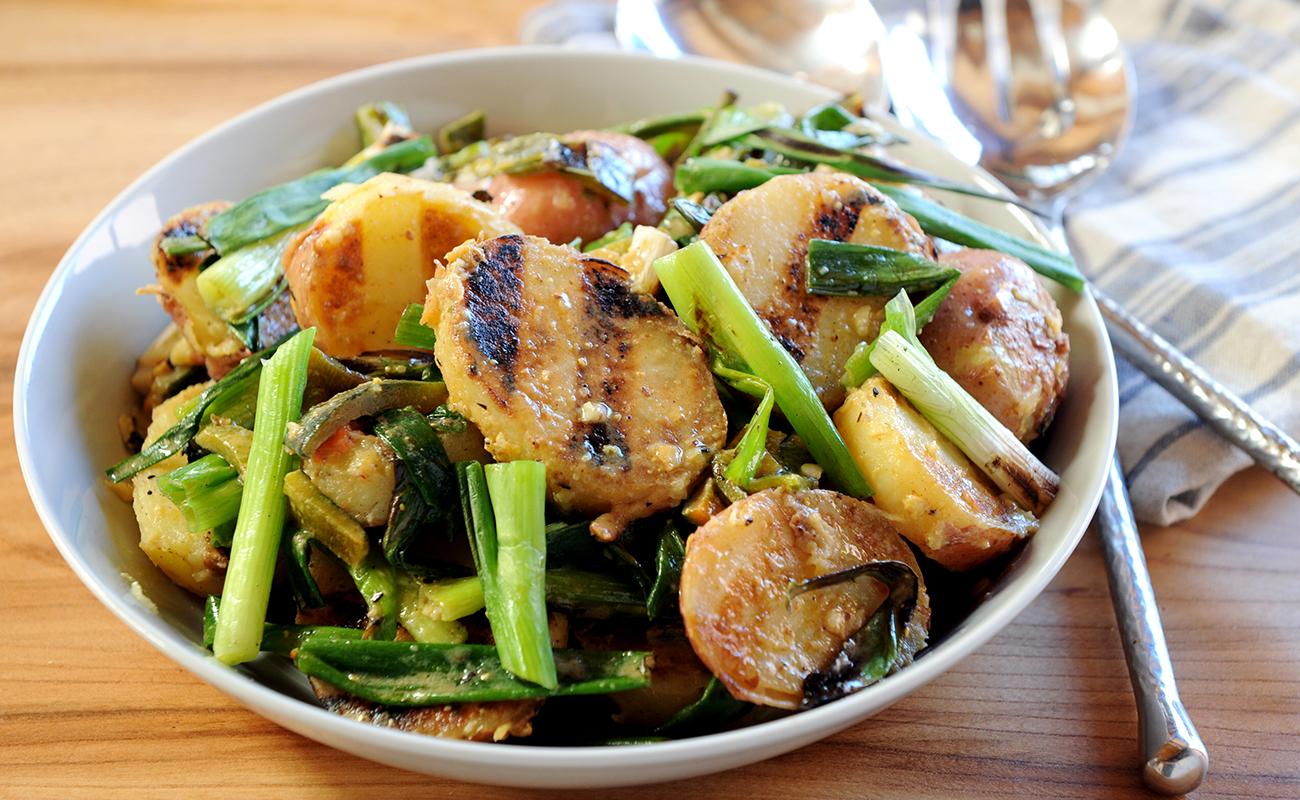 ---
Ingredients
2 pounds new potatoes, washed and trimmed
1 tablespoon kosher salt
1 teaspoon champagne vinegar
1 teaspoon freshly-squeezed lemon juice
2 teaspoons Dijon mustard
1 tablespoon buttermilk
2 tablespoons crème fraiche
Extra virgin olive oil
1 poblano chili
8 green onions
Directions
Place the potatoes in a large pot and fill with cold water to cover by 1 inch. Add the kosher salt, cover the pot, and then bring to a boil. Once boiling, remove the lid, lower the heat and cook about 10 minutes more until slightly tender. Drain and let cool.
While the potatoes are cooking, prepare the sauce. Combine the vinegar, lemon juice, mustard, buttermilk and crème fraiche with 1 tablespoon of olive oil in a large mixing bowl. Whisk to combine. Keep refrigerated until ready to use.
Prepare the grill for direct grilling over high heat.
Grill the poblano until charred and blackened on all sides, about 6 minutes. Transfer directly to a bowl and cover it with a plate to lock in the steam. Wait 5 minutes, then scrape off and discard the charred skin. Stem and seed the chili, then coarsely chop. Reserve.
Once the potatoes have cooled enough to handle, slice them 1/2 inch thick and arrange on a sheet pan. Brush with olive oil and season with salt on both sides.
Grill over high heat until nicely browned, about 3 to 4 minutes per side. Grill the green onions until browned and wilting, about 5 minutes total time. Trim the root ends off the onions and discard. Slice the onions about 3 inches long.
If serving warm, use a soft spatula to gently fold the poblano, potatoes and onions into the sauce. If serving cold, refrigerate the potatoes, onions and poblano until cool, and then fold into the sauce.