Recipes
Grilled Salmon Niçoise Salad
Perhaps the most popular dish to combine olives with seafood is the classic Niçoise salad.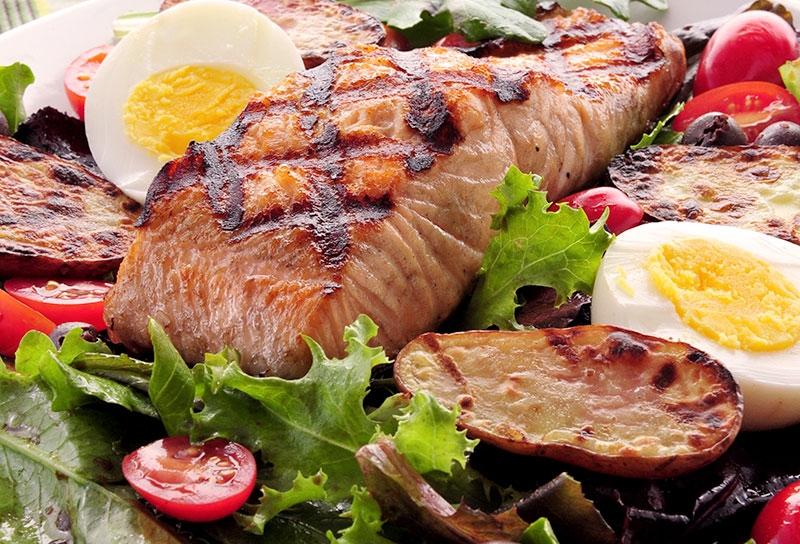 ---
Ingredients
2 6-ounce portions skin-on salmon fillet
Extra-virgin olive oil
Fine sea salt
Freshly-squeezed juice of 1 lemon
6 ounces fresh green beans, trimmed
4 red fingerling potatoes, halved
1 tablespoon balsamic vinegar
1 clove garlic
4 ounces mixed baby salad greens
12 grape tomatoes, halved
30 Niçoise-style Coquillo olives
2 hard-boiled eggs, halved
Black pepper
Directions
Prepare the grill for direct grilling with two temperature zones, one about 350°F and the other about 600°F.
Lightly brush the salmon with olive oil and season liberally with salt. Reserve.
Whisk together 1 tablespoon lemon juice and 1 tablespoon olive oil in a medium-size bowl. Toss in the green beans and lightly season with salt. Reserve.
Lightly brush the cut-side of the potatoes with olive oil and lightly season with salt. Reserve.
To make the dressing, whisk together 1 tablespoon balsamic vinegar, 1 crushed clove of garlic, 1 tablespoon lemon juice and 2 tablespoons olive oil in a large bowl. Reserve.
Place the potatoes, cut-side-down over the cooler part of the fire. Cook until just tender, about 15 minutes.
After the potatoes have been on for about 5 minutes, place the salmon over the hottest part of the fire with the skin side up. Cook until the fish starts to curl away from the grill and the skin side becomes flatter, about 5 minutes. Turn the fish so that the skin side is down, and cook for about 5 minutes more. Add the green beans at this time.
Grill the green beans until just heated through and lightly marked. Remove immediately. The fish and potatoes should be ready at about the same time. Remove the fish when the flesh flakes under medium pressure. Leave the skin behind on the grill by sliding your grill turner between the meat and the skin.
Re-whisk the dressing and then gently toss the salad greens in the bowl. Divide onto 2 plates. Top with the tomatoes, olives, eggs, potatoes, beans and salmon. Season with pepper. Enjoy!