Recipes
Grilled Ratatouille
An untraditional approach to this culinary classic creates a delicious side dish. Cooking over the fire brings out a meaty flavor profile in the some of the vegetables, while a hot skillet caramelizes the tomatoes. The zucchini and yellow squash should still have a firm texture when served.
See timing notes at the end for pairing this side with Triple S Rubbed Chicken Thighs.
---
Ingredients
1 large, cast-iron skillet
2 pints large grape tomatoes
2 large red Italian sweet onlions, quartered
Extra virgin olive oil
1 large zucchini squash, quartered lengthwise
1 large yellow squash, quartered lengthwise
Fine sea salt
1 small eggplant, sliced 3/4" thick
Directions
Prepare the grill for indirect grilling at 500º to 600ºF. You will also need room to work in the direct grilling zone. Place the skillet in the indirect zone when you start the grill.
Add the tomatoes to the skillet and toss with 2 tablespoons olive oil. Place the onions in the indirect zone (not in the skillet) and preheat with the hood closed. This jump-starts the cooking for the tomatoes and onions. They should cook in the indirect zone for 20 to 25 minutes (including pre-heat) before direct-grilling activities begin.
Brush the zucchini and yellow squash with olive oil and season with salt.
Once the grill is hot and ready, transfer the onions to the direct grilling zone. They should already be softened by their time in the indirect grilling zone. Add the zucchini, yellow squash and eggplants. Grill for a few minutes on each cut side, removing each piece when nicely marked. Be careful not to over-cook the squashes or eggplant.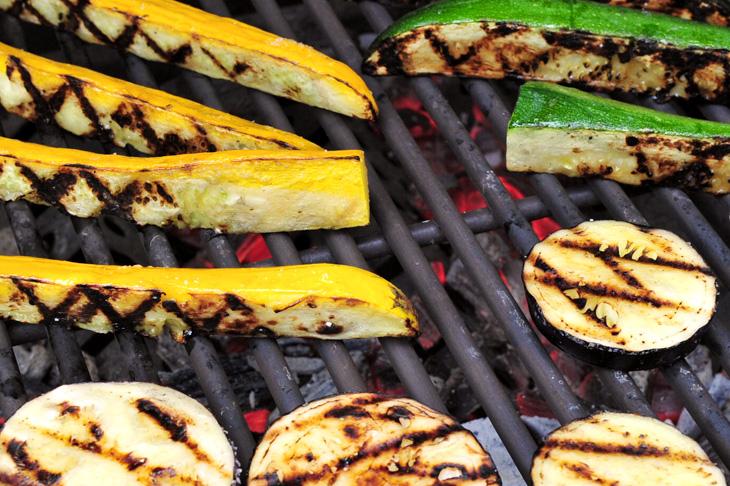 Once cool enough to handle, cut everything down into smaller pieces. Transfer to the skillet to join the tomatoes. Toss with an additional 2 tablespoons olive oil. Season with a little salt. Close the hood and continue cooking in the skillet for 10 minutes more with indirect heat.
Serve hot as a side or with pasta or couscous as a main course.
Note: If serving alongside Triple S Rubbed Chicken Thighs, prep the chicken and vegetables at the same time. Place the chicken in the indirect grilling zone at the same time all the vegetables go into the skillet for the 10 mintues of final cooking.