Recipes
Grilled Rapini with Truffle Vinaigrette and Fried Shallots
The heat of a hot grill takes some of the bitterness out of the rapini to create a wonderful salad. Torn pieces of crusty bread and crispy fried shallots add a savory and salty crunch while truffle oil amps up the earthy flavor in this side dish worthy of your dinner table.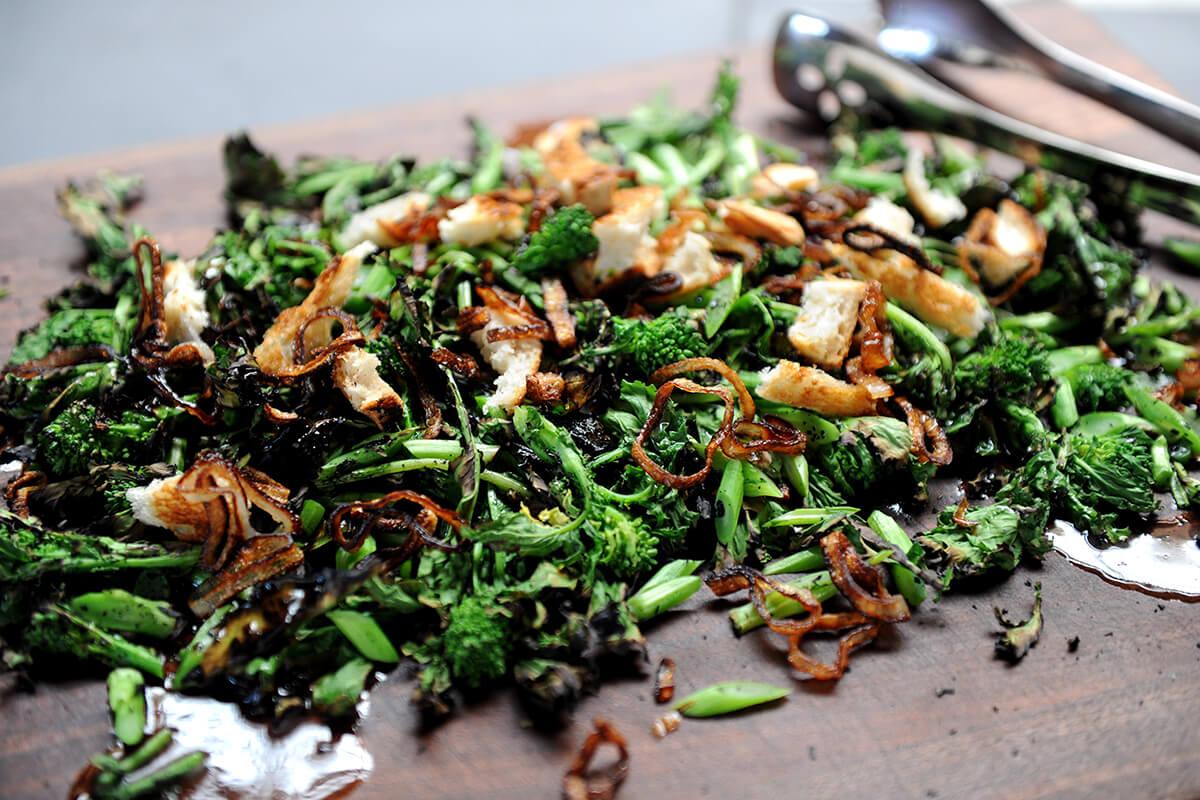 ---
Ingredients
1/4 cup canola oil
1 large shallot, thinly sliced
2 slices rustic bread, about 3/4-inch thick
Extra virgin olive oil
Fine gray sea salt
3 tablespoons white truffle oil
2 tablespoons freshly squeezed lemon juice
1 bunch rapini, about 1 pound
Directions
Prepare the grill for direct grilling over a medium-hot fire, preferably with a warming rack in place.
Heat the canola oil in a small skillet over medium heat until the oil is shimmering. Add the sliced shallot and fry until golden brown, moving as needed. Drain on paper towels and reserve.
Brush the bread slices on both sides with olive oil. Season with salt. Grill the bread on both sides until brown, then transfer to the warming rack or indirect grilling zone to thoroughly toast through. Let cool, then tear apart into small pieces.
Whisk together the truffle oil and lemon juice in a bowl to make the vinaigrette. Reserve.
Grill the rapini over the hottest part of the grill until the leaves are charred around the edges and the stems are softened. Transfer to a cutting board and cut the thicker bottom stems into small pieces. Transfer all of the rapini to a serving platter or individual plates, drizzle with vinaigrette, and top with shallots and torn bread. Serve warm.