Recipes
Grilled Potato Salad
Perfectly-grilled petite potato halves are crispy on the outside and flaky-tender on the inside. The dressing is spiked with paprika and chipotle powder for a deeper flavor and a little kick while sliced baby bell peppers deliver a bright flavor highlight.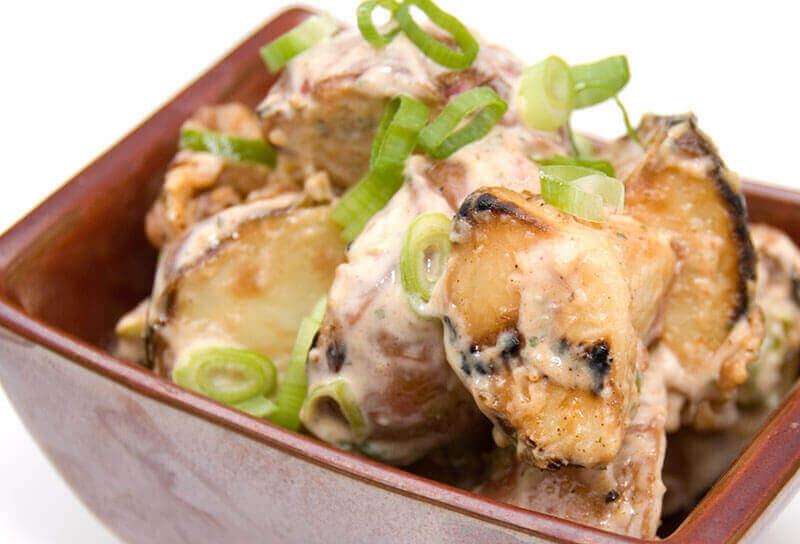 ---
Ingredients
1/4 cup sour cream
1/2 cup mayonnaise
1/4 teaspoon chipotle chili powder
1/4 teaspoon smoked paprika
3/4 teaspoon Colman's mustard powder
1 large clove garlic, crushed
1/4 teaspoon kosher salt
1/2 teaspoon champagne vinegar
3 hard- or soft-boiled eggs
3 slices bacon, cooked crisp
2 green onions, thinly sliced
6 assorted baby sweet peppers, thinly sliced (I also used 2 baby purple jalapenos for a more intense salad)
9 petite gold potatoes, halved lengthwise
9 petite red potatoes, halved lengthwise
Olive oil
Kosher salt
Directions
First, make the dressing. Combine the first 8 ingredients in a mixing bowl and whisk thoroughly. Cover and store in the refrigerator for at least 30 minutes to let the flavors meld.
Prepare the grill for indirect cooking at 500°F. While the grill is heating, prepare all of the remaining ingredients. Toss the potatoes in olive oil to coat and sprinkle liberally with salt.
Transfer the potatoes to the grill surface in the indirect zone with the cut-sides down. Close the hood and roast the potatoes until the skins are somewhat crispy and the potatoes are cooked through, about 15 minutes.
For each plate, put down 6 potato halves and drizzle with dressing. Add half an egg and half a slice of bacon. Garnish with green onions and bell peppers.