Recipes
Grilled Portobello Tacos with Creamy Tomatillo and Avocado Salsa
These tacos incorporate delicious, traditional vegetarian flavors. The meaty, umami flavor of grilled Portobello mushrooms is contrasted by the tart and herbaceous tomatillo salsa. The pickled cabbage and onions and a bit of queso fresco finish off these delightfully light tacos perfectly.
Serves 4, Yields 12 Tacos
---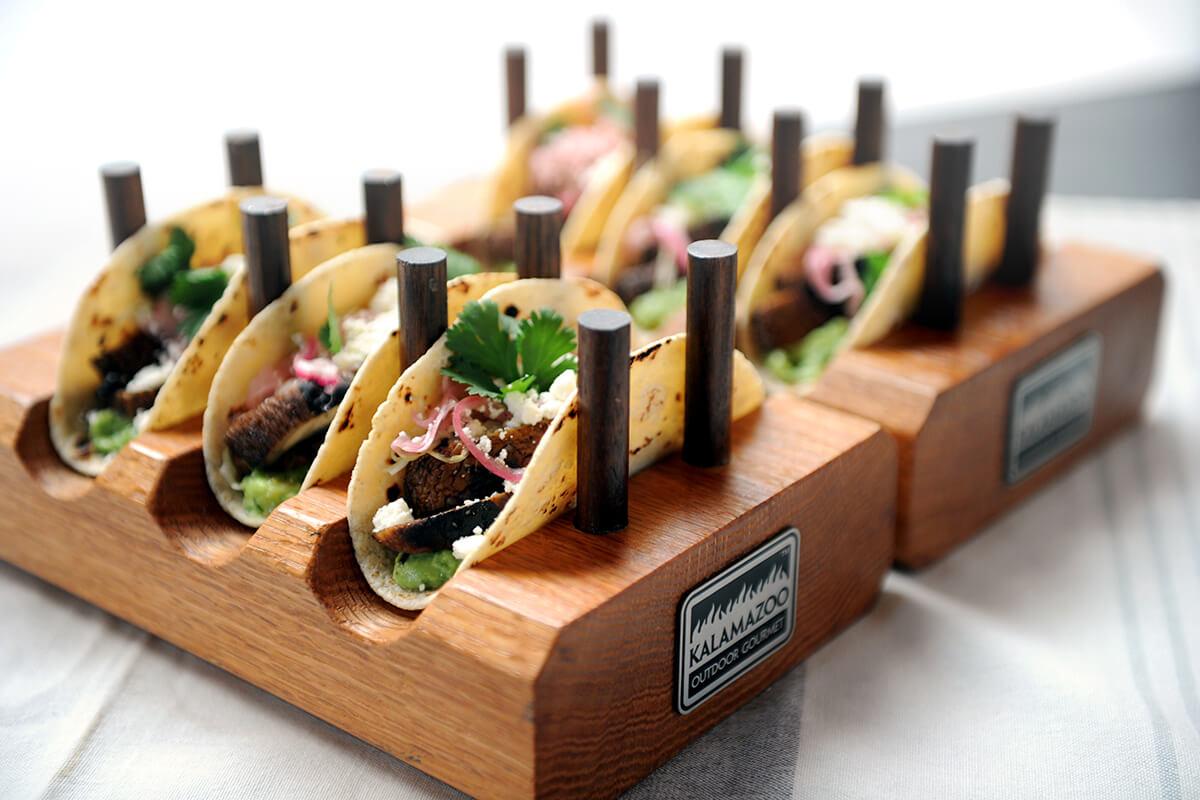 ---
Ingredients
1/2 cup filtered water
1 cup apple cider vinegar
1/2 cup honey
1 Savoy cabbage, thinly sliced
1 red onion, thinly sliced
2 large (or 4 small) tomatillos, husks removed, stemmed and quartered
1 large, ripe avocado, pitted, peeled and quartered
1/2 ounce fresh cilantro leaves, plus more for garnish
1 clove garlic, peeled and quartered
1 serrano chile, stemmed, seeded and quartered
1/2 ounce freshly-squeezed lime juice
9 medium-sized Portobello mushroom caps, stems discarded
Extra virgin olive oil
Kosher salt
Freshly-ground black pepper
12 soft white corn tortillas (or 24 if they are thin because you'll want to double them up)
6 ounces queso fresco, crumbled
Directions
To prepare the pickled vegetables, combine the water, vinegar, honey and 2 teaspoons kosher salt in a saucepan. Bring to a simmer over medium heat. Place the cabbage and onion in separate nonreactive, heat-resistant bowls. Pour the liquid over the onions and cabbage, splitting it evenly and making sure all of the veggies are submerged. Cover the bowl tightly and allow to pickle for 30 minutes. Drain off and discard all of the liquid. Refrigerate the pickled onion and cabbage until serving time.
To make the creamy salsa, combine the tomatillos, avocado, cilantro, garlic, serrano and lime juice in the bowl of a food processor (or a blender). Add 1/4 teaspoon of kosher salt. Process until very smooth. Adjust seasoning with more salt if needed. Transfer to a bowl and seal tightly with plastic wrap, pressing the plastic wrap into the surface of the salsa to eliminate air. Refrigerate until serving time.
Prepare the grill for direct grilling over MEDIUM-HIGH heat.
Generously brush the mushrooms on both sides with olive oil. Season liberally with salt and pepper.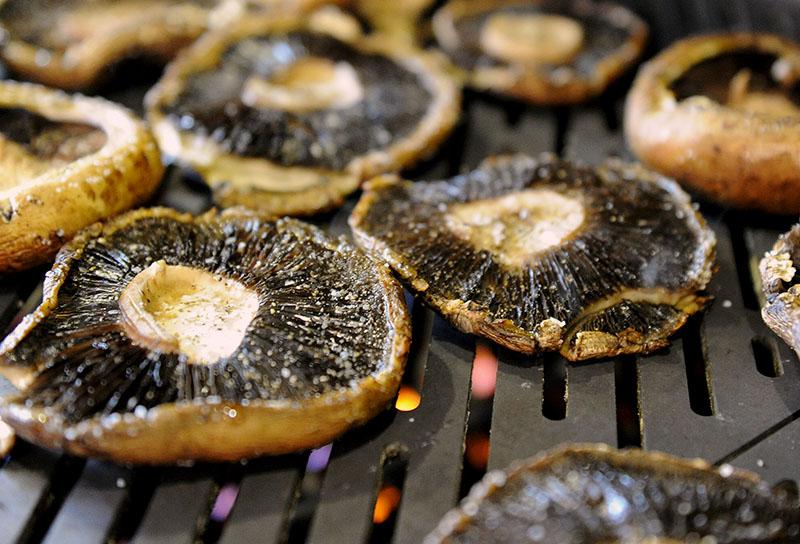 Portobello mushrooms with stems removed cooking on the Kalamazoo Hybrid Fire Grill
Grill the mushrooms in the direct zone, starting with the gill sides facing upward. Grill for 3 minutes, then flip them over and grill for about 5 minutes more. When finished, the mushrooms should be well-browned and substantially smaller in size than when you started. Transfer to a cutting board and reserve.
Lightly grill the tortillas on both sides.
Slice the mushrooms into strips.
To assemble the tacos, spoon the creamy salsa into the tortillas. Add a few strips of mushrooms. Top with pickled onions, cabbage and queso fresco. Garnish with cilantro leaves.