Recipes
Grilled Lemon Whiskey Sour
Like many classic cocktails, the whiskey sour is experiencing a resurgence. The whiskey sour was first written down in 1862, but it is believed to have been a well-known recipe for a century before. The original recipe called for sugar, seltzer, lemon juice, and whiskey. Over time, the seltzer was dropped, and the addition of a frothy egg white became popular. We're adding our own evolution to lend a subtle warmth to the drink – grilled lemons. The quick caramelization of the sugars and the citrus before juicing adds a distinct and welcome flavor.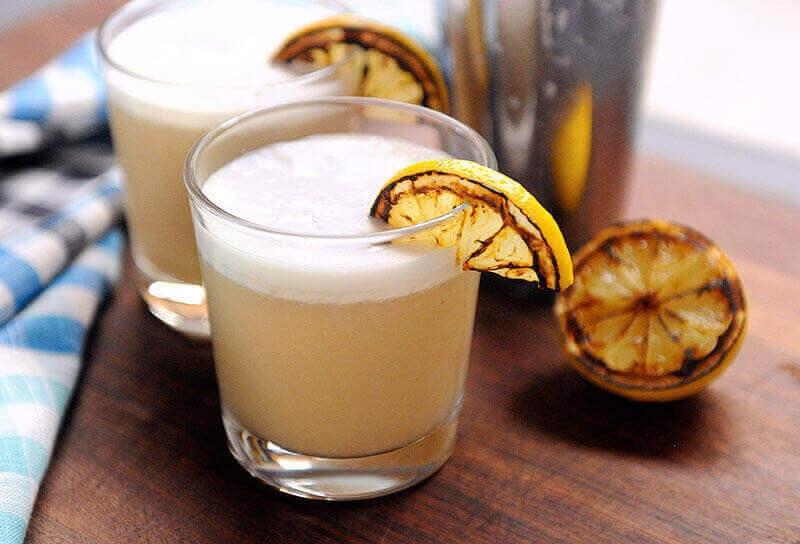 ---
Ingredients
3 lemons, halved through the equators
2 cold eggs
4 ounces bourbon
1 ½ ounces 1:1 simple syrup
Ice
Directions
Prepare the grill for direct grilling over high heat.
Grill the cut side of the lemons until well-browned, about 4 minutes. Remove from the grill and allow to cool.
Juice 2 of the lemons. Slice the grilled ends from the third lemon to use for garnish.
Separate the egg whites from the yolk. For food safety reasons, use care not to let the whites come in contact with the outsides of the egg shells.
Place the egg whites, bourbon, simple syrup, and 1 ½ ounces of lemon juice in a cocktail shaker. Dry shake without ice for 10 seconds to build a good froth, then add ice and shake vigorously for 10 seconds more. Strain into cocktail glasses and garnish with grilled lemon slices.
Note: the photo shows a double batch. Those are large cocktail glasses.