Recipes
Grilled Fruit Kebabs with Maple Glaze and Bourbon-spiked Whipped Cream
An assortment of seasonal stone fruits are grilled over a hot fire, rendering them softer and sweeter as the maple and vanilla glaze caramelizes, turning these beautiful kebabs into a light and sophisticated treat. To complement the fruit kebabs we made a delicious buttery pound cake using the Hybrid Fire Grill. The pound cake was then sliced and lightly toasted on the grill. To top things off, the dish is served with a Bourbon-spiked Whipped Cream.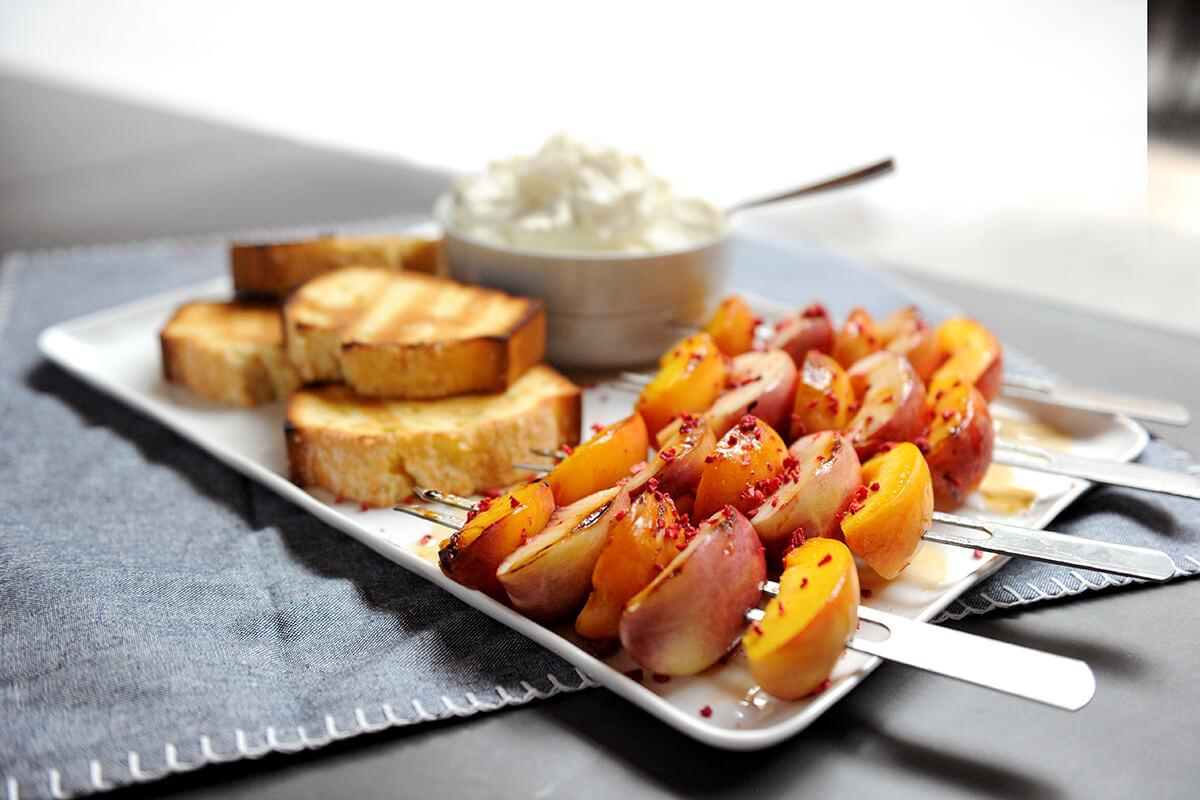 ---
Ingredients
For the Kebabs
2 apricots, halved and pitted
2 white nectarines, quartered and pitted
2 yellow peaches, quartered and pitted
8 10-inch-long bamboo skewers, soaked in water
For the Vanilla Maple Glaze
1/2 cup amber maple syrup
1/4 teaspoon ground cinnamon
1/4 teaspoon vanilla extract
1/2 teaspoon fine gray sea salt
3 tablespoons unsalted butter, melted
For Serving
1 loaf homemade pound cake
1 pint heavy cream
4 tablespoons powdered sugar
2 tablespoons bourbon
1 teaspoon vanilla extract
2 to 4 freeze-dried raspberries, crumbled into small pieces
Directions
Prepare the grill for direct grilling over medium-high heat.
Slide the fruit onto pairs of skewers for grilling. Using pairs of skewers keeps the fruit from rotating on the skewers and makes it easier to grill everything evenly. Use care to align all of the fruit as evenly as possible so that each piece makes good contact with the grill grate.
Combine the Vanilla Maple Glaze ingredients in a mixing bowl. Whisk and reserve.
Prepare the whipped cream by first whipping the heavy cream into soft peaks. Then, add the sugar, bourbon and 1 teaspoon of vanilla and mix well to combine. Reserve.
Slice the pound cake into 3/4 to 1 inch thick slices. Grill until lightly browned. Reserve.
Grill the fruit kebabs over the medium-hot fire. Turn after 3 minutes and brush with the maple glaze. Continue cooking for 9 to 12 minutes more, turning and glazing every 3 minutes until the fruit is soft and browned at the edges.
Serve each kebab while still warm, with a slice of grilled pound cake, a hearty dollop of whipped cream and a sprinkling of freeze-dried raspberry crumbles. Enjoy!