Recipes
Grilled Feta-Stuffed Figs
Figs are more than 55 percent sugar. On the grill, that sugar caramelizes and creates complex flavors that complement a fig's natural floral aromas. We stuff the figs with a Greek mixture of feta cheese, honey, and oregano to heighten the flavors.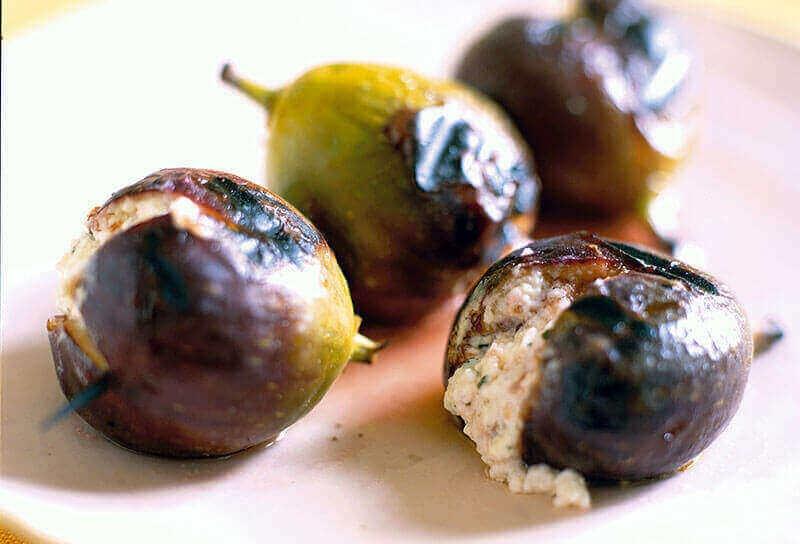 ---
Ingredients
18 large fresh figs, stems trimmed
3 ounces feta cheese (about 3/4 cup crumbled), at room temperature
1 tablespoon honey
1 teaspoon finely chopped fresh oregano leaves
1 tablespoon olive oil
Oil for coating grill grate
3 tablespoons Orange Honey-Butter Glaze
6 skewers
Directions
Prepare and preheat the grill for direct cooking at 300°F. If using charcoal and/or wood, preheat to a medium-light ash.
Cut a narrow pocket into the blossom (bottom) end of each fig. Stick your pinky finger into the pocket and use it to press indentations into both sides of the pocket, creating a small cavity in the center of each fig.
Purée the feta, honey, oregano, and olive oil in a small food processor. The mixture will be thick. Alternatively, mash the cheese vigorously with a fork, then mix in the remaining ingredients.
Using a small spoon and your fingertips, stuff about 1 teaspoon of the feta mixture into each fig cavity. Or pipe the mixture from a pastry bag into the fig cavities. Gently squeeze the blossom end together to enclose the filling.
Skewer 3 figs crosswise on each skewer (the stem end should be perpendicular to the skewer).
Brush the grill grate and coat it with oil. Put the fig skewers on the grill and cook until nicely grill-marked, turning once or twice, 5 to 8 minutes total.
Brush with the Orange Honey-Butter Glaze, if using. Getting Creative: For a touch of anise flavor, add 1/8 teaspoon pure anise extract to the feta stuffing.
Tip: To make these with dried figs, put the figs in a heatproof bowl, cover with boiling water, and soak until plump, 10 to 15 minutes. Proceed with the recipe. The figs will still be good, just not as good as fresh figs.
Buying Figs: Fresh figs are a fixture of Mediterranean culture. They come to American markets throughout the summer and fall. Among the hundreds of varieties, you'll find fig colors ranging from minty green to sunny yellow to dark purple. Inside, the soft, sweet flesh is usually pink or purple. Look for plump, unblemished fruits that barely yield to gentle pressure. Some of the more popular varieties include Mission, Kadota, Smyrna (from Turkey), Calimyrna (from California), Brown Turkey, Celeste, and Magnolia. Any variety can be grilled.