Recipes
Grilled Croissant S'mores
These s'mores for grownups are almost as easy to make as the fireside classic. We add a little cinnamon, sugar and nutmeg to the croissants to make them a little more reminiscent of that classic graham cracker flavor. Then we melt dark chocolate and marshmallows into a gooey, delicious mess.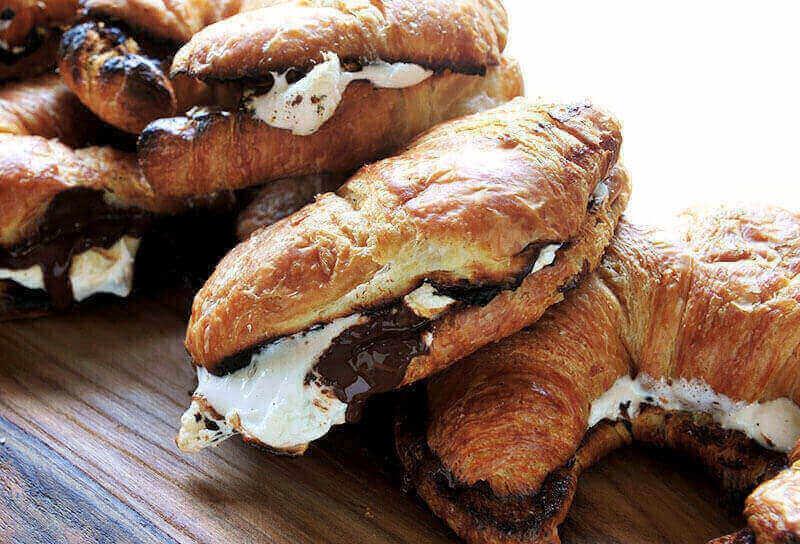 ---
Ingredients
2 teaspoons light brown sugar
1/4 teaspoon ground cinnamon
1/4 teaspoon grated nutmeg
4 tablespoons melted butter
6 croissants, sliced
18 marshmallows (and some skewers)
6 ounces dark chocolate (about 50% cacao)
Directions
Prepare the grill for direct grilling over a medium-hot fire.
Combine the first 3 ingredients in a small dish. Brush the melted butter on the cut sides of the croissants. Sprinkle with the sugar blend.
I find it best to make these in batches of 2 or 3 on the grill at a time rather than trying to juggle all 6 at once. Perfect timing is needed on the marshmallows or you may find yourself with a big mess on your hands. I recommend 3 marshmallows per skewer because that is how many go into each Croissant S'more.
Grill the buttered sides of each croissant until lightly toasted, about 1 minute. Remove from the grill and place some chocolate squares onto the bottom slices. Grill the marshmallows until melted through, turning once, about 90 seconds total. (You can get away with laying them directly on the grill grate as long as you don't leave them there too long.) Carefully slide three melted marshmallows on top of the chocolate on each croissant bottom. Add the tops. If the whole thing doesn't turn out gooey enough, heat them a little more on the warming rack of your grill.