Recipes
Grilled Cheese Grilled Cheese Sliders
We call these "Grilled Cheese Grilled Cheese" because we first grill the cheese directly on the grill grate. Halloumi is a traditional cheese from Cyprus that has a very high melting point. It is made to be grilled, and we take full advantage of this in our sandwiches. The cheese has an interesting briny character, which is quite delicious with a little oregano and the bright citrus zing of lemon juice.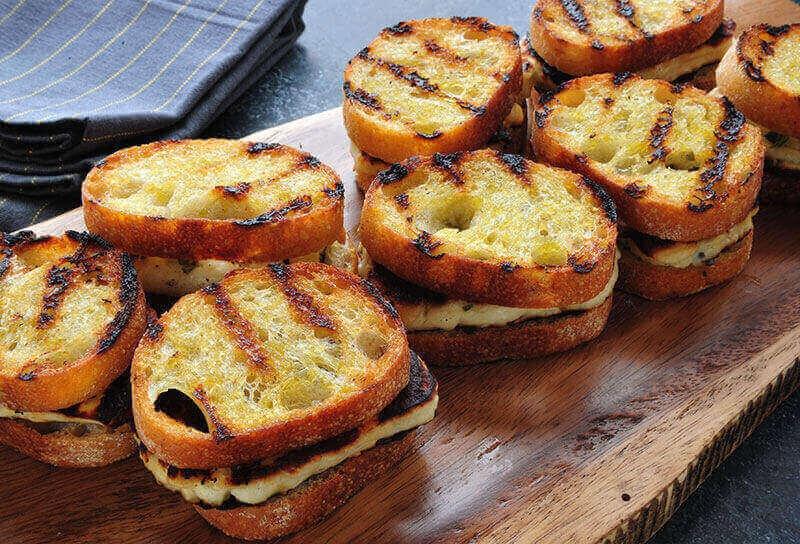 ---
Ingredients
8 ounces halloumi cheese, sliced into 8, 1/2-inch slices
16 slices French baguette, about 1/2 inch thick
Extra virgin olive oil
1 tablespoon freshly-squeezed lemon juice
Leaves from 1 stem fresh oregano, roughly chopped
Directions
Prepare the grill for direct grilling with a two-zone fire: one with a medium fire (about 400°F); and one with a very hot fire (600°F +).
Brush the halloumi slices on both sides and each bread slice on one side with the olive oil.
Whisk together the lemon juice with the oregano and 1 tablespoon olive oil. Reserve.
Grill the cheese over the hottest side of the grill until softened and well-marked, turning once, about 5 minutes total. (A meat or veggie custom laser-cut grill grate is perfect for halloumi.)
Toward the end of grilling the cheese, grill the bread. Place it on the cooler side of the grill with the olive-oil-side down. Grill until toasted and lightly marked, about 1 minute.
Remove the cheese and bread from the grill and assemble the sliders. Lightly brush the untoasted side of the bread with the lemon mixture and then place a slice of hot cheese inside each (the toasted side of the bread should face out).
Paired with Two Brothers Prairie Path Golden Ale at our Grilled Cheese and beer event September 29.