Recipes
Grilled Caesar Salad
Fire brings out the juices and softens the fibers of vegetables, and I think it adds a "warmth" to the flavor that is difficult to describe. As strange as it may sound to grill lettuce, this salad is a real treat for special occasions.
---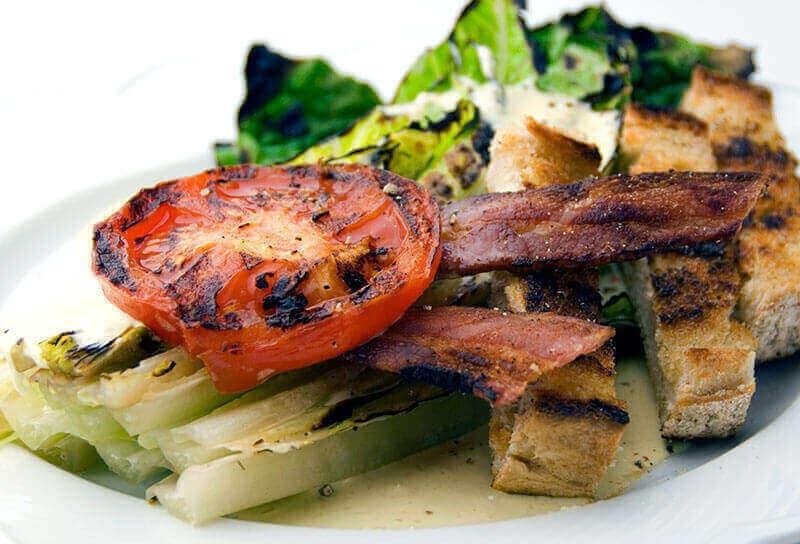 ---
Ingredients
1 egg
3/4 cup extra virgin olive oil, plus 1 teaspoon for croutons
Freshly squeezed juice of 1/2 lemon
3 tablespoons champagne vinegar
1 large clove garlic, finely chopped, plus 2 cloves whole for croutons
1/2 teaspoon fine sea salt, plus two pinches for croutons
1/2 teaspoon dry ground mustard (Coleman's)
3/4 cup shredded parmesan
2 slices tomato, 5/8" thick
2 frozen slices sourdough bread, 3/4" thick
1 head romaine lettuce, washed and dried, left whole (select one that is tightly-formed)
2 slices bacon
2 anchovy filets (optional)
Freshly ground black pepper to taste
Directions
Coddle the egg by bringing a few inches of water to boil in a pan. Turn off the heat and lower the egg into the hot water bath on a slotted spoon. Let sit 2 minutes, then remove.
Combine the egg, 3/4 cup olive oil, lemon juice, vinegar, chopped garlic, 1/2 teaspoon salt, mustard and parmesan in a blender. Blend until whipped and smooth. Refrigerate, covered, while you prepare the rest of the salad.
Prepare the grill for direct grilling at medium heat between 300 and 400°F.
Immediately upon removing the bread slices from the freezer, rub the two cloves of garlic into the hard surfaces of the bread. Brush with olive oil and sprinkle with sea salt. Slice the head of lettuce in half lengthwise, leaving the base attached to hold the leaves together.
Cook the bacon either in a skillet or, if you are comfortable doing so, directly on the grill grate until brown and crisp. Remove and set aside on paper towels. Place the bread and tomato slices on the grill directly over the fire.
Cook the bread for roughly 2 minutes per side until marked and then move to a warming rack or indirect cooking zone.
Cook the tomato slices for roughly 5 minutes per side, 10 minutes total. With about 2 of the 10 minutes remaining, add the lettuce to the grill directly over the fire with the cut-side down. Grill for about 2 minutes until nicely marked.
Remove the lettuce, tomato slices and bread from the grill. Cut the bases from the lettuce head halves and discard. Transfer the lettuce head halves to two plates. Cut the bread slices into croutons. Top the lettuce with dressing, croutons, tomato slices and bacon.
Season to taste with pepper and serve warm with steak knives.