Recipes
Grilled Buffalo Shrimp with Blue Cheese Dip
Swapping tender shrimp for the classic chicken wings is not only a refreshing change of pace, but they can be a little easier to eat as well. You'll still need to discard the tails, but that is much less of a mess than working through all those wing bones.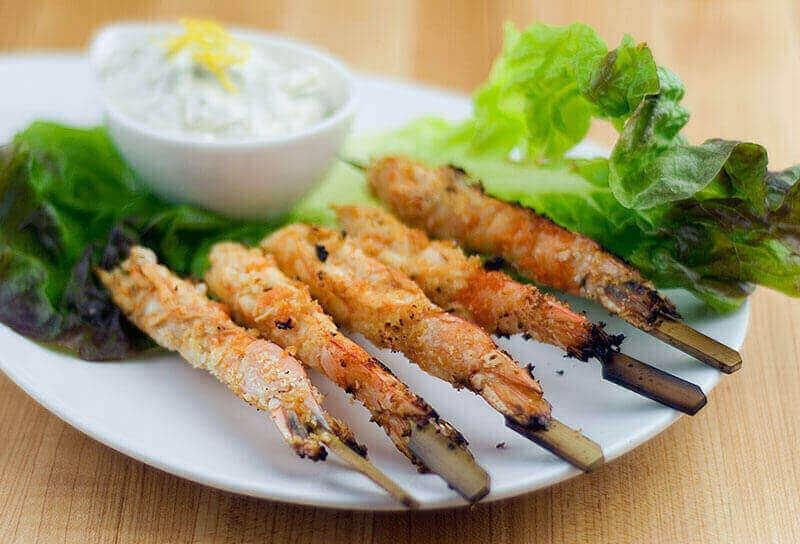 ---
Ingredients
For the Buffalo Shrimp
1/4 cup Cholula hot sauce, plus extra for drizzling
1/4 cup extra virgin olive oil
1/4 cup freshly-squeezed lemon juice
4 garlic cloves, crushed
4 1/2 teaspoons soy sauce
1/2 teaspoon ground coriander
20 shrimp (10 to 15 count), peeled and gently deveined, tails left on
About 1 cup panko (crispy bread crumbs)
20 short bamboo skewers, soaked in water for 2 hours
For the Blue Cheese Dip
3/4 cup mayonnaise
1/4 cup sour cream
1/2 teaspoon ground black pepper
1 teaspoon fresh lemon rind, finely shredded and then lightly chopped
3/4 cup crumbled blue cheese or gorgonzola
Buttermilk to thin if necessary
Directions
Whisk together the first six ingredients in a large glass or stainless steel bowl to create the marinade. Stir in the shrimp, cover and refrigerate for 4 to 5 hours.
Combine all the blue cheese dip ingredients (except the buttermilk) in a bowl. As a dip, you may want it pretty thick. To use as a dressing, dilute with buttermilk and stir to reach the desired consistency.
Cover and refrigerate for at least 1 hour before use. Note: This buffalo shrimp recipe will only need a half batch of this dip.
Prepare the grill for direct cooking at 400 to 500°F.
Remove the shrimp from the marinade. Thread each shrimp onto a short skewer so that it will remain straight and you can grill all the sides. Place the panko on a plate and roll the shrimp skewers in the crumbs to coat one by one. Drizzle the breaded shrimp with a little more Cholula hot sauce.
Grill the shrimp skewers over direct heat, turning occasionally, until cooked through and still tender, about 6 to 8 minutes total. Remove from the grill and serve with blue cheese dip.