Recipes
Grilled Broccoli with Maple Gorgonzola Dressing
We have experimented with grilling broccoli many times over the years, but have never been thrilled with the results – until now. If you have tried many recipes from Kalamazoo Outdoor Gourmet, you've likely figured out that we put olive oil on just about everything before it hits the grill. Turns out that isn't the right approach with broccoli, and it took a grilling session with Chef Stephanie Izard to reach this conclusion. Simply break the broccoli down into pieces and grill over a hot fire. A hot wood fire is even better. She also serves it with blue cheese, which we think is brilliant… So here's our take on Stephanie's grilled broccoli. Our dressing includes Gorgonzola Dolce, a sweeter gorgonzola from Italy, and a hint of maple syrup, to create a unique flavor profile.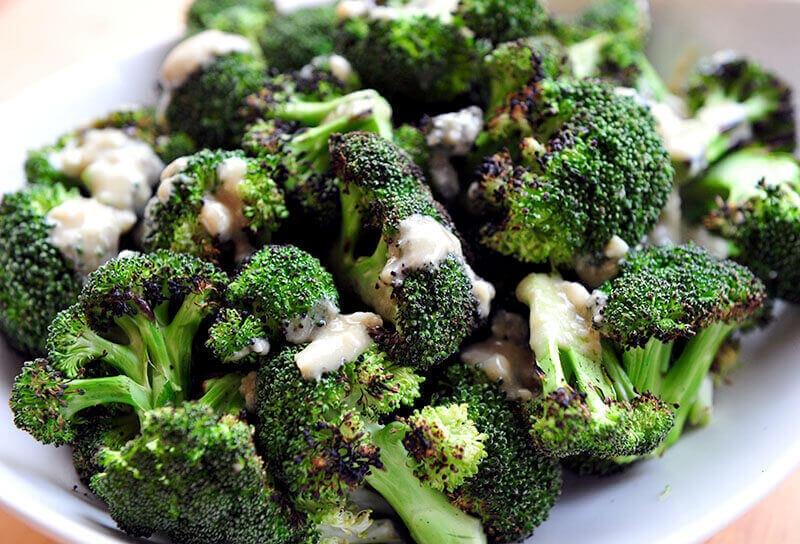 ---
Ingredients
For the Maple Gorgonzola Dressing
4 ounces Gorgonzola Dolce cheese, broken down into smaller pieces
1 teaspoon sherry vinegar (our go to is Blis #9)
3 tablespoons extra virgin olive oil
1 tablespoon maple syrup (we use a bourbon barrel maple syrup, also from Blis)
For the broccoli
4 pounds broccoli, cut down into bite-sized stem and floret sections
Directions
Prepare the grill for direct grilling over a very hot fire.
Combine all dressing ingredients in a blender and pulse until smooth.
Grill the broccoli on the hottest part of the grill until browned on the edges and softened to al dente, about 5 minutes total. Turn once or twice along the way.
Remove from the grill and drizzle with dressing to serve warm.