Recipes
Grilled Bread and Green Bean Salad with Kalamata Olives
Like a Niçoise without the tuna, this quick salad makes a perfect lunch or an ideal side dish for your grilled entrees. Grilled bread and beans are complimented by home made lemon pepper vinaigrette, baby greens, Kalamata olives and sweet grape tomatoes.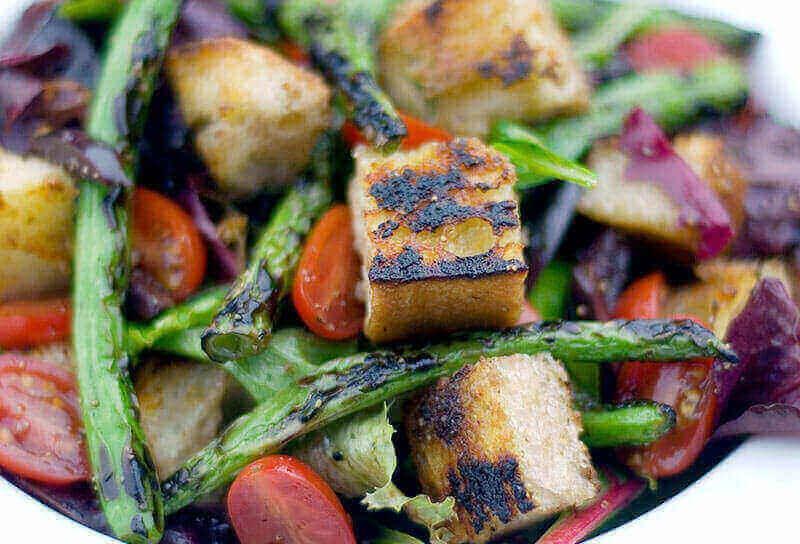 ---
Ingredients
For the lemon pepper vinaigrette
1 tablespoon extra virgin olive oil
1 tablespoon freshly-squeezed lemon juice
1 tablespoon balsamic vinegar
1/2 teaspoon cracked black pepper
For the salad
About 8 ounces trimmed fresh green beans
1/4 cup freshly-squeezed lemon juice
1/4 cup extra virgin olive oil, plus extra for brushing bread
1 teaspoon fine sea salt , plus extra for seasoning bread
2 slices rustic-style bread, frozen
1 or 2 large cloves garlic
10 to 12 Kalamata olives, pitted and slivered
About 2 ounces mixed baby greens
20 sugar plum grape tomatoes, halved lengthwise
Directions
Combine the green beans with 1/4 cup olive oil, 1/4 cup lemon juice and the teaspoon of salt in a bowl or zip-lock bag. Toss occasionally to thoroughly coat and marinate while the grill is getting ready.
Prepare the grill for direct cooking at 400 to 500 °F. Remove the bread slices from the freezer and rub the garlic into each slice. While the bread is still frozen, it will act like a grater, so the garlic will really infuse the bread.
Brush the slices on both sides with olive oil and sprinkle with salt. Combine the dressing ingredients in a small to medium bowl and whisk vigorously to thicken. Re-whisk again later before tossing the salad.
Grill the bread over direct heat in a slightly cooler zone of the grill. Cook until the bread is nicely browned and crispy on the outside, usually about 8 minutes.
About 4 minutes before you expect the bread to be done, drain the green beans, discard the marinade and add the beans to the grill on your Kalamazoo "veggie" surface or in a pre-heated grill basket. Grill over direct heat, tossing and turning for about 4 minutes. The beans should be cooked through but still crisp.
Remove the beans and bread from the grill. Cut the bread into squares and toss the salad ingredients together with about half of the dressing.
Add more dressing to your liking and serve while the green beans and bread are still warm from the grill.