Recipes
Grilled Banana Split Sundaes with Cinnamon Spice Ice Cream
Wow. This take on the ice cream parlor classic really turns the flavor up to eleven. We made homemade ice cream with vanilla, cayenne, nutmeg and cinnamon to create some really complex, delicious flavors. Then we caramelized bananas over the hot fire of a grill. The cherries are blistered on the grill as well. Then we went dark, with a chocolate sauce made with 70% cacao chocolate and a little honey. If you don't want to make your own ice cream, this dessert will still be amazing with a little vanilla ice cream from your local market.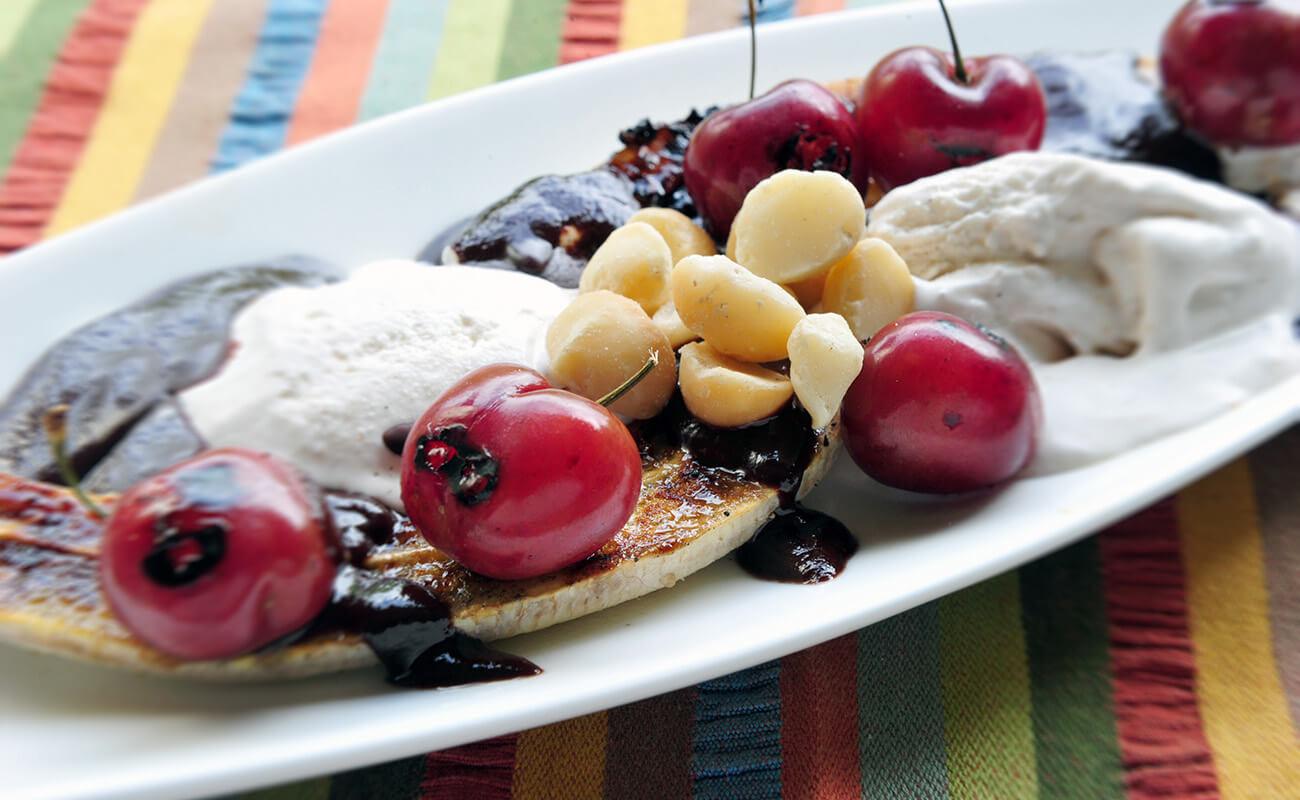 ---
Ingredients
For the Cinnamon Spice Ice Cream
2 cups heavy cream
1 cup whole milk or half and half
2 teaspoons vanilla extract
3/4 cup organic cane sugar
About 1/3 of a whole nutmeg, freshly grated
1/8 teaspoon cinnamon
A pinch of ground cayenne
A pinch of fine sea salt
For the Dark Chocolate Honey Sauce
8 ounces 70% cacao chocolate
1/2 cup heavy cream
1 tablespoon unsalted butter
1 teaspoon vanilla extract
4 tablespoons raw honey
For the rest
6 bananas, peeled and cut in half lengthwise so that they will lay flat on the grill
Turbinado raw cane sugar
About 30 cherries
Salted macadamia nuts
Whipped cream, if you like
Directions
Whisk all of the ice cream ingredients together. Place them in your ice cream machine, and follow the standard instructions for your unit to make the ice cream. Transfer to an air-tight container and keep it in the freezer to harden for a few hours.
Prepare the grill for direct grilling at 500° to 600°F.
Sprinkle the cut side of the bananas with a generous amount of turbinado sugar. Let sit while the sugar dissolves into the banana a little.
Place the chocolate in a double boiler to melt. Combine the remaining chocolate sauce ingredients in a separate pan and bring to a boil over medium heat. Remove the chocolate from the heat of the double boiler and whisk in the ingredients from the other pan. Let rest at room temperature to thicken while you grill the bananas and cherries.
Place the flat, sugar-coated side of the bananas on the grill grate. Leave them in one place to caramelize while you also grill the cherries. You can move the cherries as much as you like, but the bananas need to be left alone. When done, the sugar will have browned and caramelized on the bananas. You'll need a very thin and flexible spatula to remove them with the delicious sugary coating intact.
Assemble 6 sundaes, each with 2 scoops of ice cream, 1 banana, 5 cherries, a little chocolate sauce and some macadamia nuts. Whipped cream is optional. Enjoy!