Recipes
Grilled Asian Hot Wings
If you have been reading our newsletter for long, you probably won't be surprised when I tell you I really enjoy a dish that balances the key components of sweet, savory, tart and spicy. That's what these wings are all about. Honey provides the sweet, citrus offers the tang, soy sauce is the savory component and habanero brings the heat. How much heat is up to you. I would describe this recipe as mild, so if you want it hotter, use more chiles and leave them in the sauce longer.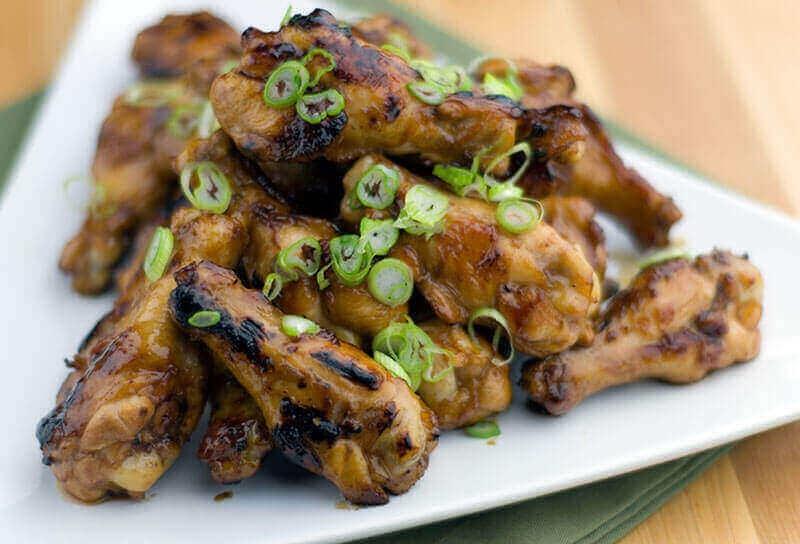 ---
Ingredients
20 chicken wing "drummettes"
For the quick marinade
1/4 cup soy sauce
1/4 cup extra virgin olive oil
2 tablespoons fresh lime juice
For the glaze
1/2 cup freshly-squeezed lime juice
1/6 cup soy sauce (see instructions below)
2/3 cup honey
2 habanero chiles, quartered
For garnish
1 to 2 tablespoons thinly-sliced green onion
Directions
Prepare the grill for direct cooking at 400 to 500 °F.
Use a fork to whisk together the marinade ingredients in a large bowl. Add the "drummettes" and toss to coat. Let rest at room temperature for about 20 minutes while you prepare the glaze.
Measure the 1/2 cup lime juice in a measuring cup, and then add the soy sauce to fill to the 2/3 cup mark. Transfer to a sauce pan and bring to a boil over medium heat.
Simmer, stirring occasionally until reduced and thickened, about 15 minutes. Be careful not to burn the reduction. Stir in the honey and add the chiles. Simmer the chiles in the glaze for about 3 minutes, stirring occasionally. Test for spiciness along the way. When the glaze has the right amount of bite, remove and reserve the habanero pieces. Reduce the heat to very low to keep the glaze warm while you grill the chicken. Be very careful not to burn the glaze now that the honey has been added.
Discard the marinade from the wings. Grill the wings over direct heat, turning occasionally until the skin is crispy and browned and the meat is almost cooked through, about 15 minutes.
Reserve about 1/4 of the glaze. Baste half the remaining glaze over the wings. Continue grilling for 2 minutes. Turn the wings, baste again, and continue grilling for three minutes more.
Remove the wings from the grill and toss with the reserved glaze. Transfer to a platter and sprinkle the green onions over the top.
Tip: Any sauces or glazes with a high sugar content like this one, should only be used for the final few minutes of grilling because the sugars will cause the glaze to burn. Keep a close eye on the grill and keep the food moving if necessary to avoid excessive burning.