Recipes
Grill-Roasted French Fries with Avocado Aioli
What goes better with burgers than French fries? How about grill-roasted fries with avocado aioli? An aioli is a garlicky mayonnaise. In this recipe, fresh avocado takes the place of raw eggs to deliver the same texture with a whole new flavor.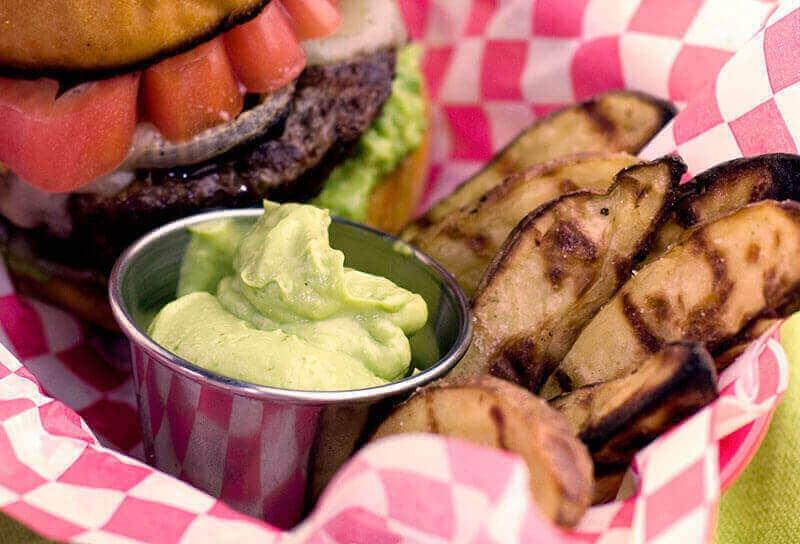 ---
Ingredients
8 large Yukon gold potatoes, cleaned, skin-on
Sea salt
Extra virgin olive oil
2 avocados, pitted and skinned
3 cloves garlic
About 3 tablespoons fresh lime juice
1/4 teaspoon ground cayenne pepper
Directions
Prepare the grill for indirect cooking at 400°F.
While the grill is getting ready, slice the potatoes into 8 wedges each. Toss gently in a large bowl with olive oil and sprinkle generously with salt.
While the grill is heating, or while the potatoes are cooking, prepare the Avocado Aioli.
Coarsely mash the avocados in a bowl and then transfer to a food processor. Add 2 tablespoons of the lime juice, and a few pinches of salt. Run the food processor until smooth. Then, with the food processor running, drizzle in about 2 tablespoons of olive oil until the mixture takes on a mayonnaise-like texture. Test for taste and add more lime juice and salt as needed.
Transfer to a bowl and store in the refrigerator with plastic wrap pressed tightly into the surface of the aioli. Place the potato slices on the grill in the indirect cooking zone. Cook, turning once, for about 25 minutes. Remove from the grill, sprinkle with salt, and serve with the Avocado Aioli for dipping.
Note: The fries can be reheated later over direct heat to make timing easier.