Recipes
Grill Lover's Guacamole
Last weekend, I was at a beach house with good friends from Detroit and Chicago while we were participating in the Great Lakes Kite Festival in Grand Haven, MI. Grilling at the house has become a tradition we all enjoy. The guacamole we made this year was so good I had to share it with you for Memorial Day. What makes this guacamole so good? Bacon! … and corn and red onion kissed by the fire of the grill. The usual suspects (cilantro, lime, jalapeno and garlic) are there as well. This is a guacamole you have to taste to believe. It was gone 8 minutes after we served it.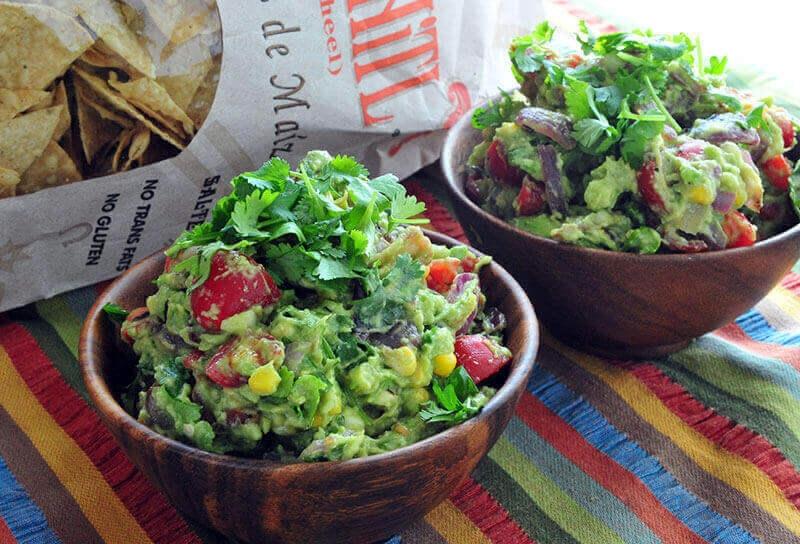 ---
Ingredients
2 ears corn, shucked and cleaned
1 red onion, cut in half
Extra virgin olive oil
Fine sea salt
1/2 cup lime juice
4 cloves garlic, finely chopped
6 avocadoes
1 bunch cilantro (about 4 ounces before trimming), stems removed and coarsely chopped
3 jalapenos, stemmed, seeded and finely chopped
1 pound bacon, cooked and cut up
1 pint grape tomatoes, quartered
Directions
Prepare the grill for direct grilling with a hot fire, about 500ºF.
Brush the corn and the onion with olive oil and liberally season with salt. Grill the onion over direct heat until blackened on the cut side and the whole onion is soft. Grill the corn quickly, turning frequently, just until marked all around. Remove both from the grill and let cool for at least 10 minutes.
Cut the corn from the cob and loosely dice the onion. Reserve.
Place 1/2 of the lime juice in a large bowl along with 1/2 teaspoon salt and the garlic. Pit the avocadoes and add the meat to the bowl. Stirring as you add each piece in order to coat with lime juice and discourage oxidation. Use a potato masher to break down the avocadoes. Leave it chunky and loose. Stir in the onion, corn, cilantro, jalapeno and bacon. Test for taste, adding more lime juice and salt as needed. Fold in the tomatoes.
If not serving immediately, press plastic wrap into the surface of the guacamole to keep air from making contact. This will keep in the refrigerator for up to 2 hours, but it is best served immediately upon assembly.
Working ahead: The corn and onion can be grilled and the tomatoes can be cut 2 hours ahead of time. The bacon can be cooked up to a day in advance.