Recipes
Green Salad with Grilled Corn, Avocado and Red Onion
Quickly marking raw corn on the grill brings out the sweetness while maintaining the juiciness and snap... perfect for adding to salads. The lemon pepper dressing is a breeze to make and highlights the avocado. This colorful salad has a warmth of flavor that is very satisfying. It makes a great quick dinner entree as well, especially with a little skit steak thrown in.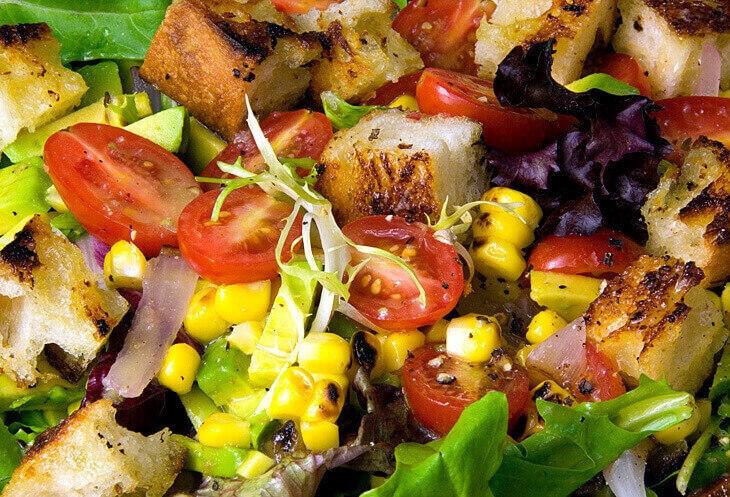 ---
Ingredients
1/2 cup plus 5 tablespoons extra-virgin olive oil
6 cloves garlic
8 slices artisan bread
Fine sea salt
1/2 red onion
2 ears fresh corn, shucked
2 avocados, halved and pitted
2 tablespoons freshly squeezed lemon juice
1 tablespoon freshly cracked black pepper
1/2 pint sweet grape tomatoes, halved
3" hot house English cucumber, diced (optional)
16 ounces spring greens salad mix
Directions
Prepare a medium-hot fire for direct grilling.
Measure 5 tablespoons extra virgin olive oil into a small dish. Finely grate 4 cloves of garlic using a microplane grater. If you don't have a microplane grater, crush the garlic in a garlic press. Stir the garlic into the olive oil. Brush the olive oil garlic mixture onto both sides of the bread slices and sprinkle with fine sea salt.
Place the red onion half on the grill with the cut-side-down leaving the outer layers of the onion intact. Cook with the grill closed until the onion is soft and the cut side is well-marked, about 10 to 15 minutes.
Remove from the grill and let cool. While the onion is cooking, grill the bread slices over the coolest part of the fire, turning several times until golden brown. Move the bread to a warming rack well away from the heat. Continue cooking until the bread is crisp but not charred.
Coarsely chop the remaining two cloves of garlic and combine with the lemon juice, pepper and 1/2 cup of olive oil in a blender. Blend at high speed until the dressing becomes thickened and opaque. Grill the corn, turning frequently until well-marked and the kernels begin to turn golden.
Do not fully-cook the corn or allow the kernels to begin to wrinkle. Remove from the fire and allow to cool slightly. Split the avocados and remove the pits. Grill flesh-side down over direct heat until well-marked.
Discard the outer layer(s) of the onion and thinly slice radiating from the center.
Cut the corn from the cob. Cut the grilled bread into croutons. Dice the avocado. To serve, place the spring greens on plates.
Top with the grilled onion, corn, avocado and croutons. Add the tomatoes and optional cucumber then drizzle with the lemon pepper dressing.