Recipes
Grapefruit Wild Rice
We took grapefruit off the breakfast table and put it into this delicious wild rice side dish. Yes, you read that right. Grapefruit takes center stage here. The bright citrus flavor and the nutty taste of the wild rice are a perfect complement to grilled meats. So quick and incredibly easy to prepare, the key is selecting a sweet grapefruit. Leftovers can be served cold as a refreshing salad.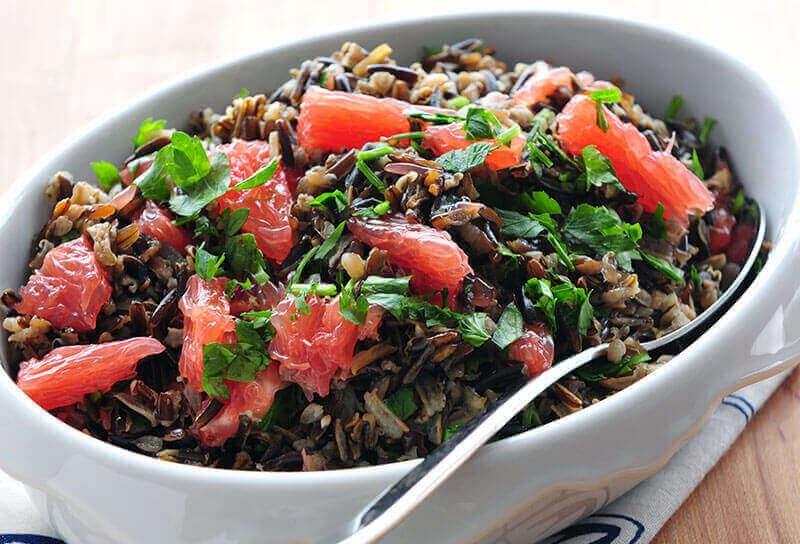 ---
Ingredients
3 cups cooked wild rice (1 cup uncooked)
1 large, sweet red grapefruit
1 tablespoon butter, melted (or try walnut oil instead)
2 tablespoons chopped flat-leaf parsley
1/4 teaspoon kosher salt
Pepper to taste
Directions
Supreme the grapefruit, and then slice the segments crosswise into smaller pieces. Quickly transfer them to a small bowl to collect the juices.
Place the hot, cooked rice in a medium mixing bowl. Transfer the grapefruit pieces from the small bowl into the bowl with the rice, leaving the juice behind. Whisk the butter into the juice in the small bowl. Add the butter mixture to rice. Add the parsley and salt and fold together. Season to taste with black pepper.
Serve hot or cold.