Recipes
Grape and Ricotta Pizza with Thyme, Bacon and Honey
This pizza became an instant favorite with the neighbors and makes a great appetizer. Smoky bacon, sweet honey and savory thyme all work together with the fruity flavors from the red grapes. A little bit of sea salt brings it home.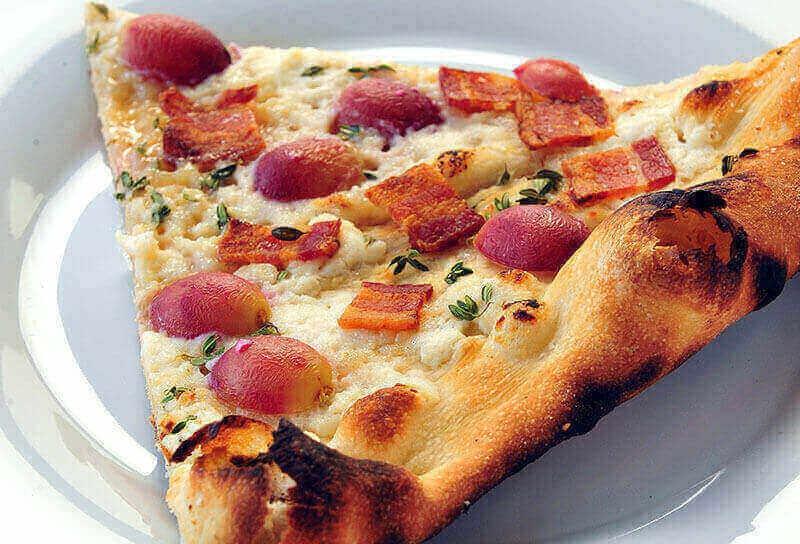 ---
Ingredients
1/2 batch White Wine Pizza Dough, about 14 ounces
1/4 cup high-quality ricotta cheese (I use Miceli's)
Honey
Pinch of sea salt
1 teaspoon fresh thyme leaves
2 slices cooked bacon, cut into 1/2-inch pieces
12 large, red seedless grapes, halved
Directions
Prepare the pizza oven or grill for baking pizza.
Roll out the pizza dough to about 14″ and transfer to a pizza prep peel lightly dusted with corn meal. Spread the ricotta over the dough. Drizzle with honey. A little will go a long way. Start with just a couple of teaspoons or so. Sprinkle on the thyme leaves and sea salt. Distribute the bacon on top and place the grapes cut-side down.
Bake the pizza until the crust is golden brown and the toppings are hot. At 500 degrees it should take about 10 minutes. At 750 degrees it will take only about 3 minutes.