Recipes
Grape and Gorgonzola Pasta Salad
Grapes and bacon get along so well. Our unique pasta salad was inspired by one of my favorite pizzas, the Grape and Riccotta Pizza with Thyme, Bacon and Honey. This dish features bolder flavors, with grilled radicchio and Gorgonzola Dolce setting the tone. Still, it is the fresh and juicy red grapes working together with the smoky bacon that turn this salad into something special.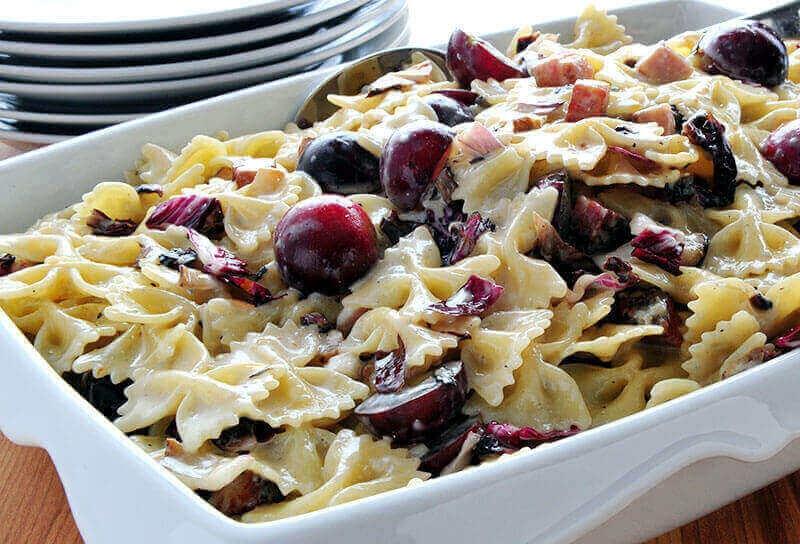 ---
Ingredients
1/2 pound slab bacon, cut to ¼-inch dice and cooked soft
1 tablespoon bacon drippings
1 tablespoon walnut oil
1 tablespoon extra virgin olive oil
1 tablespoon sherry vinegar
1/4 cup prepared mayonnaise
8 ounces Gorgonzola Dolce cheese, crumbles
1 large head radicchio
1 pound dry pasta (I like farfalle for this recipe)
1 pound red seedless grapes, halved
Directions
Prepare the grill for direct grilling over a hot fire (about 600°F).
Whisk together the first 5 ingredients. Whisk in the mayonnaise. Stir in the cheese. Cover and keep refrigerated while you prepare the rest of the salad.
Quarter the radicchio lengthwise through the center of the base to keep all of the leaves in each quarter attached. Place a cut side of each quarter on the grill over the hot fire. Grill for about two minutes, until very browned, on one side only. Remove from the grill and cut crosswise into thin ribbons. Reserve.
Cook pasta according to the instructions. Drain and transfer to a large bowl. Stir in the dressing, bacon, radicchio and grapes. Serve warm.