Recipes
Garlicky Grilled Chicken Wings
If you've perused our recipes, you've probably seen quite a few riffs on chicken wings. We love wings as a casual food to share with friends, and there might be no limit to the flavorful combinations you can experiment with. These particular savory morsels get the full garlic treatment, starting with a garlicky buttermilk brine, followed by a flavorful rub featuring dried garlic and garlic salt. Chef Michael Chiarello's Green Goddess Dressing is the perfect dip to accompany our garlic wings. You can find the recipe for the dressing on our website.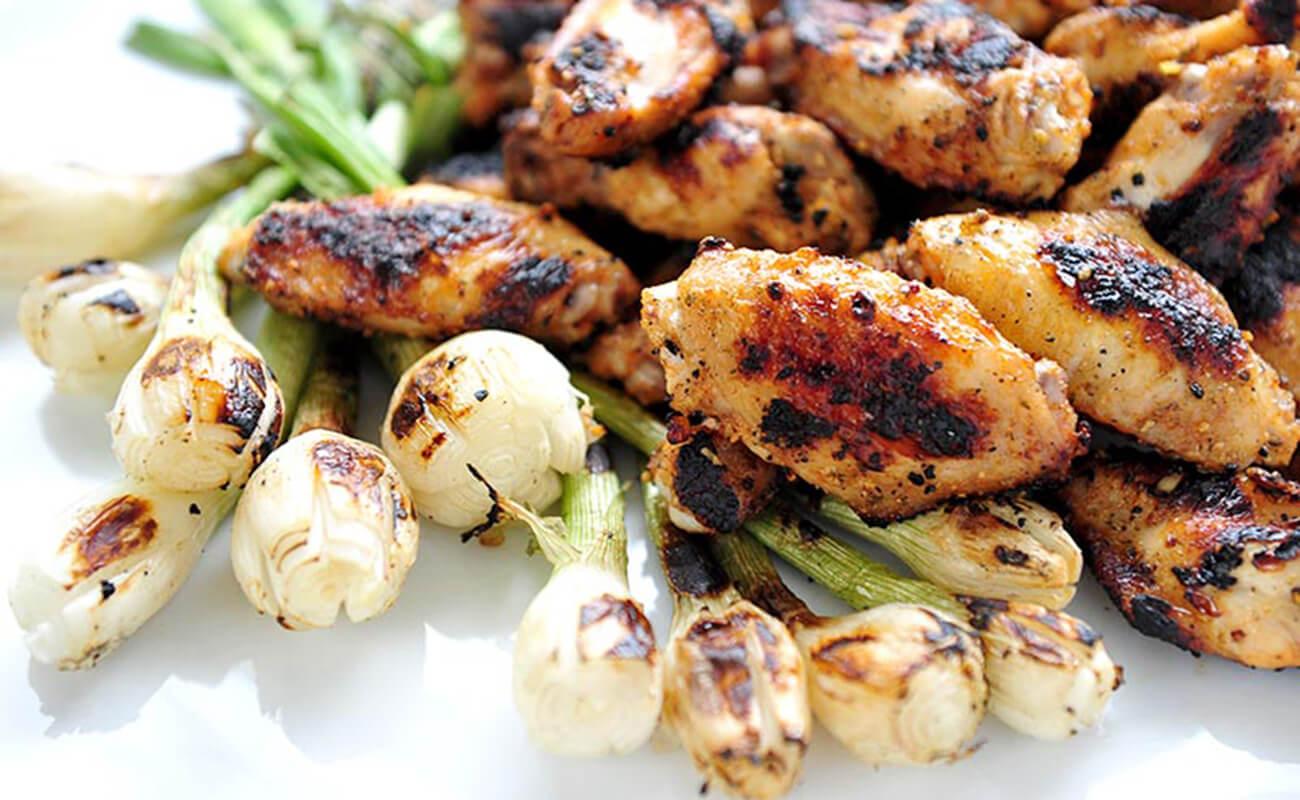 ---
Ingredients
For the Garlic Buttermilk Brine:
10 ounces Cholula Chili Garlic Hot Sauce
2 tablespoons kosher salt
1/4 cup extra virgin olive oil
1 cup buttermilk
12 large garlic cloves, crushed
1 tablespoon whole grain Dijon mustard
For the Garlic Rub:
2 tablespoons dried chopped garlic (we prefer to grind chopped garlic immediately before use rather than using granulated garlic, which can often be less flavorful)
1 tablespoon garlic salt
1 tablespoon dried parsley
2 teaspoons freshly ground black pepper
1 teaspoon turbinado sugar
4 pounds chicken wings, segmented and tips discarded
Directions
In a large non-reactive bowl, whisk together the hot sauce and salt to thoroughly combine. Add the olive oil, buttermilk, mustard and milk. Whisk vigorously for one minute.
Add the wings to the bowl and fold into the buttermilk brine you've just created. Cover tightly and refrigerate for at least 6 hours, or up to 18 hours.
Combine the garlic rub ingredients in a spice grinder or coffee mill and grind until the chopped garlic is ground to a fine texture. Keep in an airtight container in the refrigerator until ready for use.
30 minutes before grilling, remove the wings from the brine and transfer them to a wire rack on top of a sheet pan to drain. Discard the brine.
Prepare the grill for direct grilling at 500°F.
5 minutes before grilling, coat the wings thoroughly on all sides with the garlic rub, while they are still on the wire rack.
Place the wings in the direct grilling zone and cook, turning occasionally, until the skin is crisp and browned and the wings are cooked through (internal temperature of 165°F). This should take approximately 10-12 minutes, but the most important factor is the internal temperature.
------------------
Note: These wings are particularly good when grilled over a wood fire. Grill some knob onions alongside for a little color and complementary flavors.