Recipes
Garlicky Chicken Kebabs
A quick garlic rub and a little garlic-infused olive oil are all it takes to transform chicken kebabs from good to great. Cut the chicken into small cubes, and grill quickly over high heat for tender and juicy meat with bright, al dente vegetables.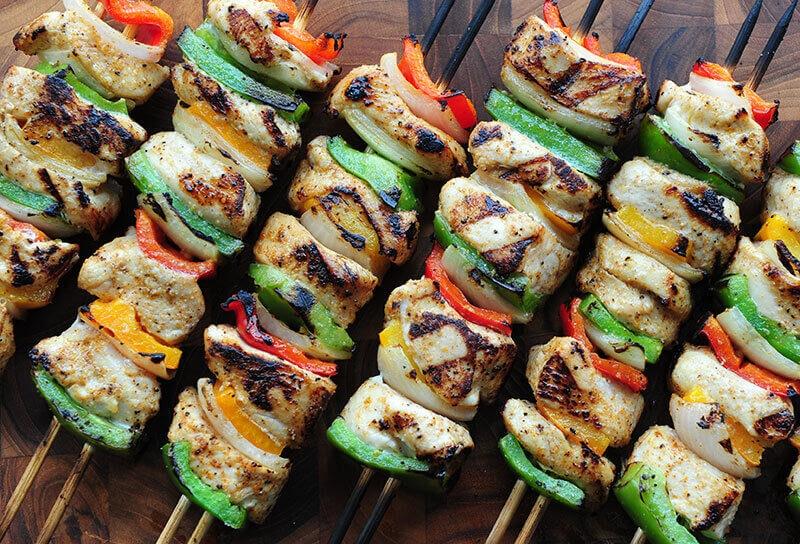 ---
Ingredients
For the garlic rub
1 teaspoon garlic salt, plus more to season the kebabs before grilling
1 teaspoon light brown sugar
1/2 teaspoon granulated garlic
1/2 teaspoon freshly-ground black pepper
1/4 teaspoon chili powder
1/4 teaspoon ground cayenne pepper
For the kebabs
2 pounds boneless, skinless chicken breasts, cut into 1-inch cubes
5 tablespoons garlic-infused olive oil
2 green bell peppers, seeds and ribs removed, cut into 1-inch squares
1 red bell pepper, seeds and ribs removed, cut into 1-inch squares
1 orange bell pepper, seeds and ribs removed, cut into 1-inch squares
2 yellow onions, cut into 1-inch squares
16 long bamboo skewers, soaked in water for a few hours to prevent burning
Directions
Prepare the rub first and cut up the chicken. Toss the cubed chicken with 2 tablespoons garlic-infused olive oil. Season with the garlic rub. Let it rest at room temperature to soak up the flavor while you chop all of the vegetables.
After all of the ingredients have been cut up, prepare the grill for direct grilling at 600° to 650°F.
Before assembling the skewers, count each ingredient and divide by 8 to determine how many pieces of chicken, bell pepper, and onion will be used for each kebab. I like to assemble each kebab in identical fashion, for both better presentation and more even cooking.
Assemble the kebabs onto double-pronged skewers or pairs of single skewers. Using double skewers makes it easier to turn the kebabs and cook all sides of each morsel evenly because the pieces cannot rotate individually on the skewer.
Brush the assembled skewers with the remaining garlic-infused olive oil and season with additional garlic salt.
Grill the kebabs directly over a hot fire, turning occasionally until the chicken is done (about 5 to 10 minutes total, depending on your grill and your fire).