Recipes
Garlicky Ancho Chile Rub
This easy dry-rub—similar to what's used on ribs in the American Southwest—is more robust (and less tangy) than the more classic spreadable ancho chile Adobo Marinade. It shows it's best profile on grilled red meats, though a light sprinkling is also welcome on practically anything. If you have a small food processor (or washable "spice" grinder), chop the garlic in it, then add the remaining ingredients and pulse until combined.
---
Ingredients
4 cloves garlic, peeled and finely chopped or crushed through a garlic press
1/3 cup pure ground ancho chile powder (available from national companies, like Mc Cormick, Mexican groceries and internet sites)
4 teaspoons brown sugar
1 teaspoon oregano, preferably Mexican
1/2 teaspoon ground cumin
4 teaspoons ground black pepper
5 teaspoons salt
Directions
In a bowl, stir together all of the ingredients until thoroughly blended. Scoop into a container, cover and store in the refrigerator for up to a month or more.
---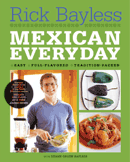 Recipe from Mexican Everyday by Rick Bayless with Deann Groen Bayless.