Recipes
Garlic Chicken Pizza
Hands down, this pizza is my wife's favorite. Roasted garlic and white wine make a rich flavor base for the caramelized onions and chicken.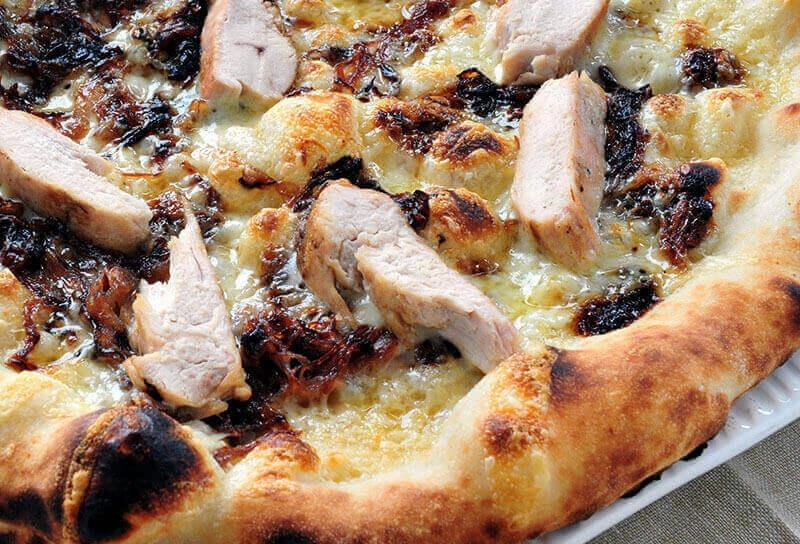 ---
Ingredients
Please note this recipe yields 2 pizzas. It is also particularly helpful to read the whole recipe before starting to cook.
1 batch White Wine Pizza Dough, about 28 ounces, split into two equal parts
1 large head garlic
Extra virgin olive oil
Fine sea salt
1 boneless, skinless chicken breast
2 cups white wine (I use Hey Mambo)
2 tablespoons unsalted butter
2 tablespoons light brown sugar
1/2 red onion, shaved to 1/2 mm thick with a mandolin
8 ounces soft Fontina cheese (I use Fontina Fontal)
Directions
Prepare the grill for direct grilling at 500ºF with an indirect zone for roasting garlic. At the same time (if possible), prepare the pizza oven or grill for baking pizza. For instructions on cooking pizza on the grill, see our helpful guide.
Cut the top off the garlic head to expose the tops of all the cloves inside. Drizzle olive oil onto the top and sprinkle with salt. Roast in the indirect zone of the grill until the garlic is browned and soft, about 30 minutes. (You can place the garlic directly on the grill grate or in a garlic roaster like the one in the photo at the end of this post.) Reserve.
While the garlic is roasting, pound the chicken breast to a uniform thickness for quick, even grilling. Brush with olive oil and season with salt. Grill in the direct zone of the grill, turning once, until 2/3 to ¾ of the way to fully-cooked. Reserve.
Also while the garlic is roasting, combine the wine and butter in a large skillet (more surface area helps with quick reduction) over medium-high heat. Reduce to a thick syrup with a volume of about 1/8 cup. Remove from heat and whisk in the brown sugar. Transfer to an 8-inch non-stick frying pan while it is still warm. Reserve.
At the same time, combine the red onion with a splash of olive oil in a medium skillet over medium-high heat. Cook, turning occasionally, until caramelized (dark brown in color and substantially reduced in volume). Reserve.
Pop the roasted garlic cloves from their skins and smash them/chop them up. Add them to the reserved white wine reduction in the non-stick skillet. Place over medium heat and stir until thoroughly combined. Remove from heat.
Everything up to this point can be prepared a couple of hours ahead and held in the refrigerator.
Form the first dough to roughly a 12-inch pizza crust. Top with half the roasted garlic white wine mixture in small dollops. On top of that, add half the cheese and then the caramelized onions. Slice the chicken breast and place half onto the pizza. Transfer to a pizza peel.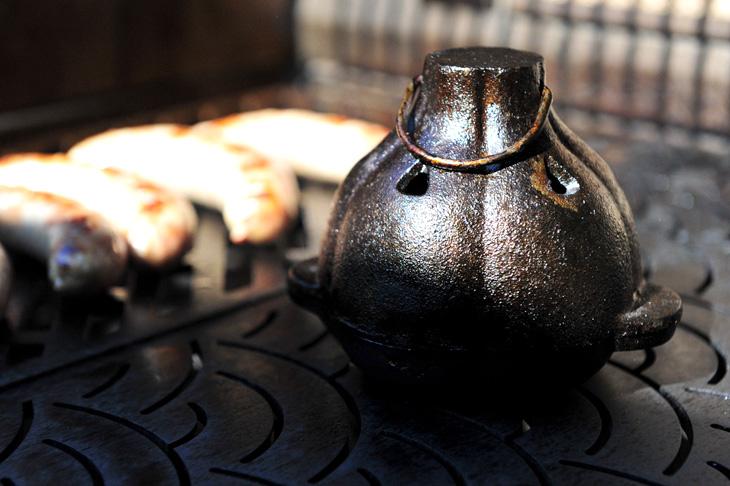 A nifty cast iron garlic roaster from Sur la Table