Recipes
Garlic-Braised Short Ribs
The best short ribs are tender and succulent with a deep, flavorful, brown crust on the outside. That is one reason I prefer to braise short ribs on the grill. After braising in a cast iron vessel for a couple of hours, I remove the ribs from the liquid and crisp up the outsides by grilling them on the hottest part of the grate.
In this recipe, the ribs are braised in garlic and white wine with a little rosemary. After braising, we use an immersion blender and a bit of butter to transform the braising liquid into a luscious sauce.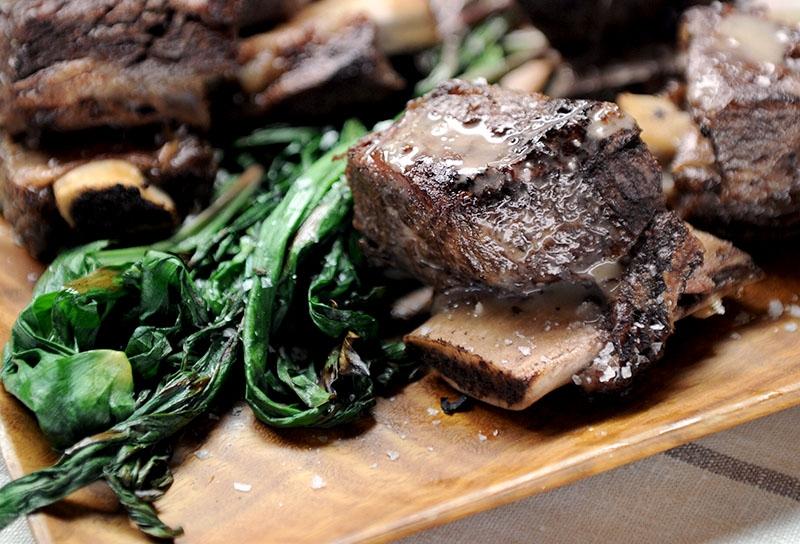 ---
Ingredients
6 beef chuck short ribs, 2 1/2 to 3 pounds total
Kosher salt
2 tablespoons canola oil
1 yellow onion, diced
10 cloves garlic, chopped
1 1/2 cups white wine (Pinot Grigio is a good choice)
1 cup low sodium chicken stock
1 teaspoon fresh rosemary leaves, minced
4 tablespoons unsalted butter
Directions
Generously season the short ribs with salt. Reserve.
Prepare the grill for indirect grilling at 350°F. Preheat the Dutch oven in the direct zone. (For a Kalamazoo Hybrid Fire Grill, place the Dutch oven on the grill grate in the center of the grill. Preheat the grill with the lid closed and all main burners on HIGH for 15 minutes.)
Heat the canola oil in the Dutch oven, then brown the short ribs on all sides, about 8 minutes. Remove the ribs from the Dutch oven and reserve. Brown the onion and garlic in the same oil until slightly translucent. Deglaze the Dutch oven with the white wine. Stir in the chicken stock and rosemary. Add the short ribs back into the Dutch oven, cover, and place it in the indirect zone of the grill. (For a Kalamazoo K750 Series Hybrid Fire Grill, turn the middle burner and left burner OFF. With one main burner running on HIGH, the air temperature in the indirect zone will be 350°F.)
Braise the short ribs in the indirect zone at 350°F with the grill lid closed. Rotate the Dutch oven every 30 minutes for even cooking. Braise the ribs until tender, about 2 hours.
Remove the ribs from the braising liquid, and brown them on all sides on the hottest area of the grill grate for about 5 minutes. Reserve.
Add the butter to the braising liquid. Use an immersion blender to create a velvety sauce.
Plate the ribs and dress with the sauce. We served these ribs with grilled ramps and white rice.