Recipes
Fresno Barbecue Shrimp
Grilled shrimp are always a tasty treat, especially when you amp up the flavor with a little barbecue rub. Rings of Fresno chiles dress the shrimp, adding just the right amount of heat. I would call these medium on the spicy scale.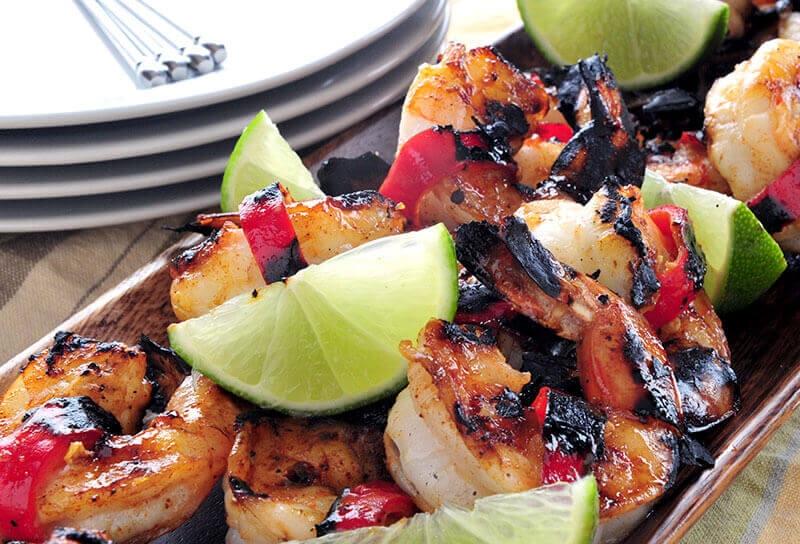 ---
Ingredients
16 jumbo shrimp (10 to 15 count)
2 tablespoons extra virgin olive oil
1 tablespoon freshly-squeezed lime juice
6 medium-sized Fresno chiles
3 tablespoons of your favorite barbecue rub (I used 1 tablespoon Not-So-Basic Barbecue Rub combined with 2 tablespoons light brown sugar)
Lime wedges for serving
Directions
Prepare the grill for direct grilling over medium-high heat (about 500 ºF). A charcoal fire is preferred.
Peel, de-vein and slightly butterfly the shrimp, leaving the tails on.
Whisk together the olive oil and lime juice and toss the shrimp in the mixture. Leave in the mixture for 5 minutes while you prepare the Fresno chile rings. Remove them after five minutes and discard the liquid.
Slice the chiles into 16 rings about 1/4 inch wide. You will likely not use the larger or smaller ends as they will not fit around the shrimp. Remove the ribs and seeds from each ring. Slide 1 ring around each shrimp, starting from the tail end. Choose chile rings that are appropriately sized for each shrimp.
Cover the shrimp in barbecue rub and let sit for about 10 minutes before grilling.
Grill the shrimp over direct heat, turning occasionally, until cooked through. The cut portion of the shrimp where they are partially butterflied will turn opaque when they are done. Be careful not to overcook the shrimp as they will become quite tough. Total cooking time should be between 6 and 8 minutes at the most.