Recipes
Freshly Baked Parker House Rolls
One of the things we love about the Artisan Fire Pizza Oven is its versatility. It is optimized for baking incredible pizzas, but it can also be used for baking bread, and roasting meat, seafood and veggies. We have adapted this recipe from Food52's Yossy Arefi, specifically for baking in the Artisan Fire Pizza Oven. Warm, freshly baked bread rolls are the perfect accompaniment to pretty much every holiday meal. This recipe is fairly simple to make, and creates plenty of wonderfully flaky, buttery rolls. Serve hot out of the oven after brushing with a little melted butter and salt, and your guests are sure to be impressed.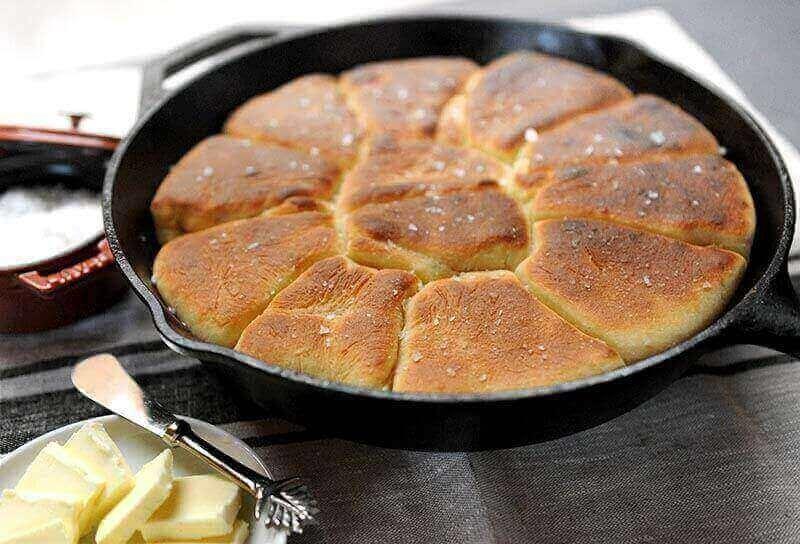 ---
Ingredients
1 envelope active dry yeast (about 2 ¼ teaspoons)
¼ cup warm water, at 110° F
¼ unsalted butter
2 tablespoons sugar
1 ¾ teaspoons kosher salt
1 cup whole milk, warmed just slightly
1 large egg
3 ½ cups all-purpose flour
¼ cup unsalted butter
Flaky finishing salt, such as Maldon
Directions
Whisk the yeast and water together. Let sit until foamy, about 5 minutes.
In the bowl of a stand mixer fitted with the dough hook, combine the butter, sugar, and salt. Whisk in the milk and egg. Add the foamy yeast mixture and stir to combine. Add the flour and stir until a dough forms, then knead until smooth, about 5 minutes. The dough will be soft and will probably stick to the bottom of the bowl. Transfer the dough to a lightly oiled bowl and let rise until doubled in size, about one and a half hours.
Butter the inside of a 12-inch cast iron skillet.
Once the dough has finished resting, divide it into 4 pieces. On a floured surface, roll one dough piece into a roughly 12- by 6-inch rectangle. Brush the top with melted butter and fold the dough over lengthwise. Cut the rolls at an angle to form triangles without a top point. This will allow you to fit the rolls evenly in the round cast iron skillet. Lay the folded rolls in the skillet, slightly overlapping.
Repeat with the remaining dough, then brush the tops of the rolls with melted butter. Loosely cover the skillet with plastic wrap and let the rolls rise for 30 more minutes.
Preheat the Artisan Fire Pizza Oven for 30 minutes with the back burner on MEDIUM and the bottom burner on LOW. The target baking temperature is 350°F. You can place an inexpensive oven thermometer on the baking deck inside the oven to help you dial in the burners to achieve the target temperature.
Place the skillet in the pizza oven sideways with the handle to the left or right. Bake the rolls until golden brown and puffed, about 30 minutes total. After 15 minutes, rotate the skillet 180 degrees and continue baking another 15 minutes.
Remove the skillet from the pizza oven, then brush with melted butter and sprinkle with the flaky salt. Serve warm.