Recipes
Fiery Four Sausages Pizza
This pizza is an explosion of flavors. A habanero tomato sauce base is topped with andouille, pepperoni and two kinds of chorizo. Add three kinds of cheese, plus pickled jalapeño, and your taste buds will have nowhere to hide. This pizza is spicy, but it is a balanced and flavorful kind of spicy.
Serves Yields 1 10-inch pizza
---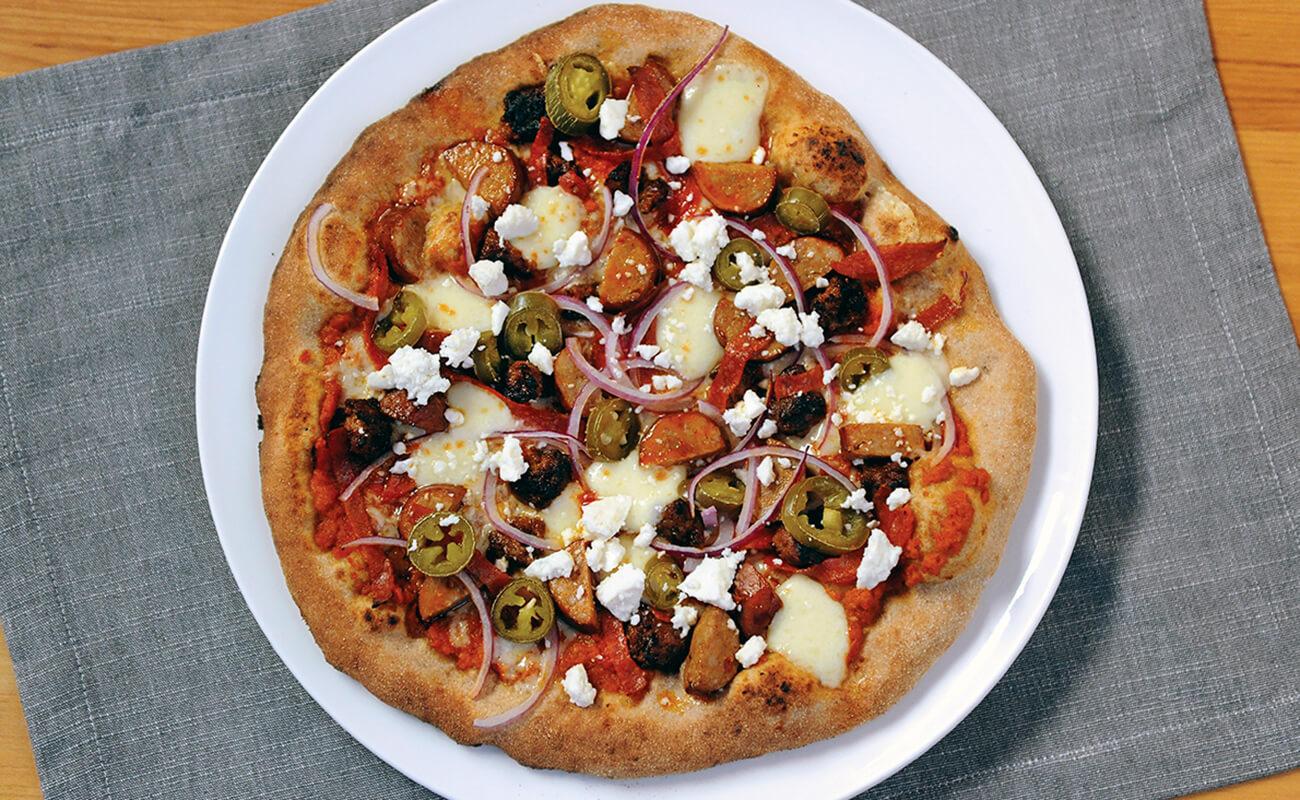 ---
Ingredients
1 10-ounce Two Hearted Ale Whole Wheat Pizza Dough ball
2 ounces Habanero Tomato Pizza Sauce
1 ounce grated Asiago cheese
2 ounces crumbled chorizo sausage, fully cooked
1 1/2 ounces thick-sliced smoked andouille sausage
1 1/2 ounces sliced smoked chorizo, cut into thin strips
1 1/2 ounces sliced peperoni, cut into thin strips
1 1/2 ounce white cheddar cheese curds, break down any large curds into smaller pieces
1/8 red onion, thinly sliced
1 dozen pickled jalapeño slices
3/4 ounce queso fresco, crumbled
Directions
Working on a lightly floured surface (we use Caputo '00 flour), form the dough ball into a 10-inch pizza. Spread the Habanero Pizza Sauce evenly onto the dough. Distribute the Asiago cheese, followed by the meats, then cheese curds, onions and jalapeño slices.
Place the pizza on a pizza peel and transfer to the oven or grill. Cook until the cheese is melted and the crust is nicely browned.
Cooking in a hot pizza oven will take less than 3 minutes. Cooking in a conventional oven at 500⁰F, or on a grill, will require closer to 10 minutes.
Remove from the oven and top with the queso fresco.