Recipes
Fiery Barbecue Chicken Pizza
I call it "Fiery" not only because it brings the heat, but also because of the smoky flavors of chipotle chiles and the fire-marked corn. This pizza is absolutely loaded with flavor. For less spicy palates, you can try halving the chipotles and the Serrano.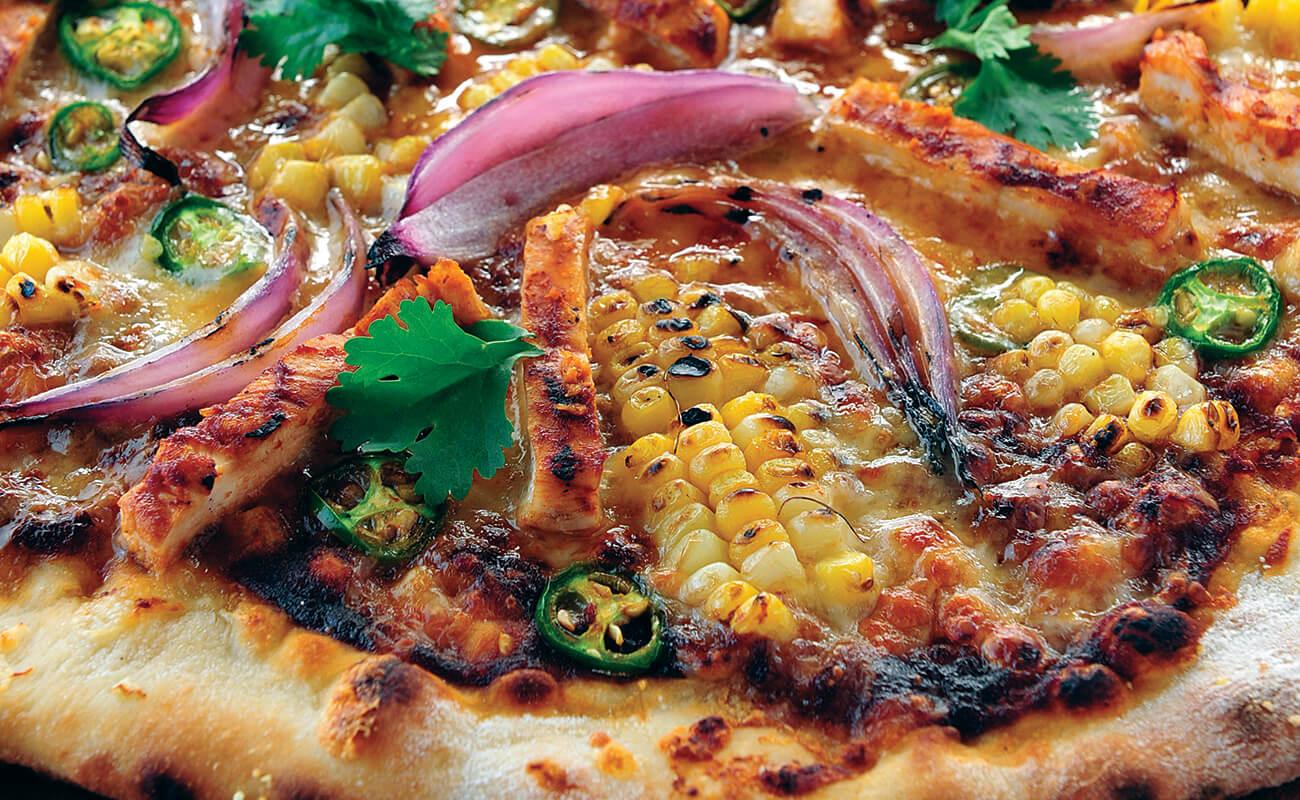 ---
Ingredients
1/4 red onion, cut into narrow wedges
1 ear of corn, shucked
1 boneless, skinless chicken breast, butterflied
Olive oil
Kosher salt
About 3 ounces (1/4 cup plus 2 tablespoons) Chipotle Barbecue Sauce (recipe follows)
1/2 batch White Wine Pizza Dough, about 14 ounces
2 ounces Monterey Jack cheese, shredded
1 ounce Scamorza cheese, shredded
1 Serrano chile, thinly sliced
A dozen fresh cilantro leaves
Chipotle Barbeque Sauce
Yields 2 1/2 cups
7.5 ounces canned chipotle chiles in adobo sauce
2 roma tomatoes, roughly chopped
6 ounces tomato paste
1 1/2 cups brown sugar
3 tablespoons molasses
3 tablespoons balsamic
1 clove garlic
Directions
Chipotle Barbeque:
Combine all ingredients in a blender or food processor. Thoroughly process until liquefied. Test for the right balance of sweetness and spice, adding more molasses or brown sugar if needed.
Note, the flavor of this sauce is quite intense and is meant to be an accompaniment used in small quantities. Store any extra sauce in the refrigerator in an air-tight container for up to 7 days.

Entire Dish:

Prepare the grill for direct grilling over a hot fire.
Skewer each onion wedge with a toothpick to help keep it together on the grill. Brush the onion, corn and chicken with olive oil and season liberally with kosher salt. Separate off 1 ounce of the barbecue sauce for basting the chicken.
Quickly grill the chicken, about 3 minutes per side. Do not over-cook it, because it will be cooked some more on the pizza. After grilling the first side and turning it over, brush on some of the barbecue sauce. After the second side is marked by the fire, turn the chicken again and brush barbecue sauce on the second side. Briefly grill both sides to caramelize the sauce.
Grill the onion on both sides until nicely marked and starting to get tender. Grill the corn until well-marked all around.
Slice the chicken, cut the corn from the cob and separate the layers of the onion wedges.
Prepare the pizza oven or grill for baking pizza (see our online guide for perfect pizza on the grill).
Roll out the pizza dough to about 14″ and transfer to a pizza prep peel lightly dusted with corn meal. Spread on 2 ounces of Chipotle Barbecue Sauce (a 2 ounce ladle is a handy tool if you make pizzas often), sprinkle on the cheese and distribute the chicken, corn, onion and Serrano.
Bake the pizza until the crust is golden brown and the toppings are hot. At 500 degrees it should take about 10 minutes. At 750 degrees it will take only about 3 minutes.
Top with fresh cilantro before serving.