Recipes
Deep-Dish Three-Cheese Sausage Pizza
If you like lasagna, you will love this Chicago-style pizza. Three different cheeses make it wonderfully decadent and gooey, while Italian pork sausage and fresh thyme really enhance the flavor.
Serves Yields one 12-inch pizza
---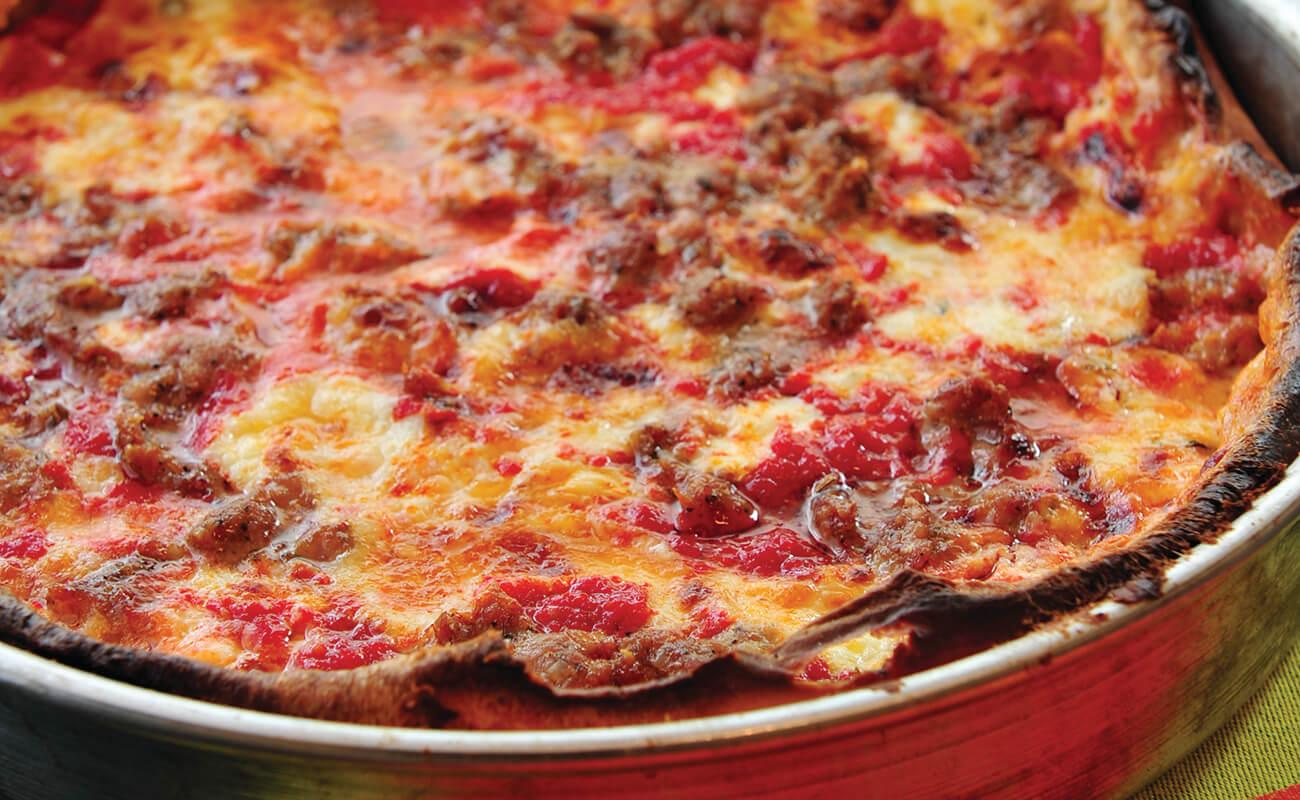 ---
Ingredients
1 batch White Wine Pizza Dough, about 28 ounces
2 pounds fresh Roma tomatoes
4 cloves garlic
1/2 teaspoon kosher salt
12 ounces scarmoza cheese, shredded
8 ounces ricotta
1 teaspoon fresh thyme leaves
12 ounces fresh mozzarella (Ovolone size), drained and dried in a mesh strainer
About 1/2 pound Italian pork sausage, casings removed and broken into small pieces
You will also need a cooling rack and a 12-inch heavy aluminum pizza pan, 2 inches deep. It should be made from at least 14 gauge material.
Directions
Prepare the dough 2 hours ahead.
Prepare the grill for indirect grilling at 400°F
Combine the tomatoes, garlic and salt in a blender and puree until very smooth. Transfer to a saucepan. Reduce over medium heat, stirring frequently until thickened into a sauce. Set aside.
Form the dough into a large circle, larger than the pizza pan and only 1/4 inch thick. The outer perimeter can be thicker. Place it over the pan and let it sag into position. Coax it into the corners of the pan, leaving the dough hanging over the edges.
Spread the scarmoza cheese into a bottom layer on the dough. Place the pizza pan with the dough and scarmoza in the indirect grilling zone and close the grill hood. Cook until the cheese is fully-melted. This helps pre-crisp the crust, and the melted cheese forms a protective layer that helps prevent the crust from becoming soggy. Remove from the grill using gloves or oven mitts.
Layer in the ricotta cheese, followed by the thyme leaves and the fresh mozzarella, keeping the layers as level as possible. Ladle on the tomato sauce and then add the sausage. Use small pieces, evenly-spaced to help ensure the raw sausage will cook fully.
With all the ingredients in the pizza pan, the pan should be only halfway full. The toppings will expand when cooking. Fold in the crust that is hanging over the edge of the pan, getting it all inside the pan, but keeping it high on the sides. If any pizza toppings overflow the sides of the crust, the pizza will be soggy.
Put the pizza pan back in the indirect grilling zone and close the grill hood. Cook for at least 40 minutes, rotating every 10 minutes. The toppings should be bubbling, the sausage should be fully cooked and the edges of the crust should be dark.
Remove from the grill and let rest 10 minutes before cutting and serving.