Recipes
Curry Sweet Potato and Turkey Salad
This salad is flat-out delicious. You can enjoy it on its own or serve it in naan as sandwiches with baby spinach leaves. Tart apples contrast sweet raisins while a multitude of flavors sing in harmony.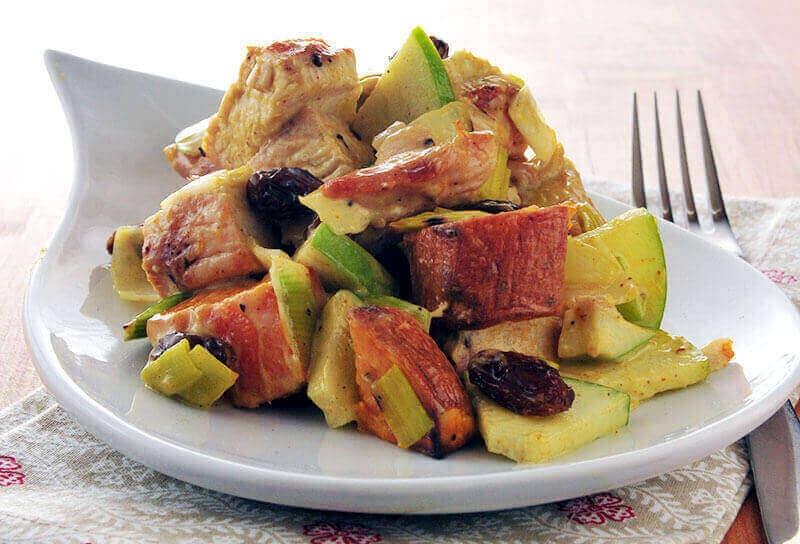 ---
Ingredients
1 cup mayonnaise
2 teaspoons muchi (yellow) curry powder
1 tablespoon light brown sugar
1 teaspoon Colman's mustard powder
1 teaspoon champagne vinegar
4 sweet potatoes, quartered lengthwise
3 leeks, trimmed at both ends and halved lengthwise
Extra virgin olive oil
Fine sea salt
2 pounds boneless turkey breast, skin-on
2 Granny Smith apples
1 cup golden raisins
Finely-ground white pepper
Directions
Prepare the grill for indirect cooking at 450°F to 500°F.
Whisk together the first 5 ingredients in a small bowl. Cover and refrigerate for at least 30 minutes. Brush the sweet potatoes and the cut side of the leeks generously with olive oil and season liberally with salt.
Butterfly the turkey breast, making horizontal cuts that allow you to fold it out to a single layer about 1-inch thick for quicker grilling. Brush with olive oil and season with salt.
Place the sweet potatoes in the indirect cooking zone along with the leeks. The sweet potatoes should be placed with the skin-side down and the leeks should be round-side-down and cut-side-up.
Place the turkey directly over the fire with the skin-side up. Close the hood so the vegetables can roast in the indirect zone. After 5 minutes, turn the turkey over. Close the hood and continue cooking for 5 more minutes. Transfer the turkey to the indirect zone, close the hood and cook for about an additional 10 minutes.
Check the turkey to see if it is cooked through. (An internal temperature of 165°F should do.) The leeks can be removed at this time. The potatoes should be cooked until tender, which may require an additional 10 to 20 minutes (30 to 40 minutes total).
Cut the turkey and sweet potatoes into 1-inch pieces. Discard the outer layer from each leek and cut the rest down to 1/2-inch squares. Thinly slice the apples and combine all in a large bowl with the raisins. Fold in the curry dressing, being careful not to damage the potatoes. Serve warm now or cold later.