Recipes
Crown Roast of Pork with Savory Rosemary Rub
The majesty of a crown roast belies the simplicity of its preparation — especially if the butcher ties it for you.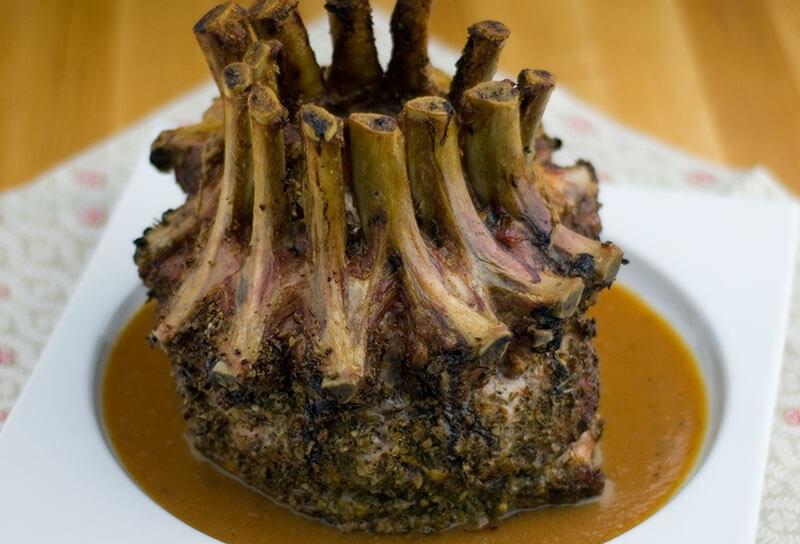 ---
Ingredients
6 large cloves garlic, finely chopped
4 tablespoons fresh rosemary, finely chopped
3 teaspoons kosher salt
3 teaspoons coarsely ground black pepper
Finely grated lemon zest from 2 lemons
Crown pork roast, tied, about 6 pounds (approximately 12 ribs)
Extra virgin olive oil
Hickory wood chunks or soaked chips
Aluminum foil (optional)
Chicken or beef stock (optional)
Directions
Combine the first five ingredients in a small bowl to create the savory rub. Brush the pork roast all over with olive oil and then press the savory rub into the roast avoiding the bones. Allow the roast to rise toward room temperature for about 30 minutes before putting it on the grill.
Prepare a grill for indirect cooking at about 400°F. For hybrid grills, light a wood fire on one half of the grill and let it burn just until the wood is covered with gray ash and very hot. For gas grills, prepare to use wet wood chips for smoking.
If you plan to make gravy for the roast or the dressing, a roasting pan and rack will be needed. For something as small as this pork roast, I like to place a wire rack across the top of a 12-inch cast iron skillet, cooking the roast on the rack. If using a roasting pan, place 1/2 inch to 1 inch of broth in the bottom of the pan. If not, the roast can be cooked directly on the grill grate.
Either way, place the roast in the indirect cooking zone, close the hood, and cook at 400°F for 2 to 2 1/2 hours. Rotate the roast a few times along the way to ensure even cooking, but keep the hood closed as much as possible. If the bones begin to char, cover them with foil.
Remove from the grill when the internal temperature measures 150°F. Loosely cover with foil and let the roast rest for 15 to 20 minutes before serving. Gravy can be prepared during this resting period.