Recipes
Crisp Wedge Salad with Champagne Vinaigrette
The Wedge Salad is a popular staple at steak houses, but it rarely makes an appearance at home. That makes it all the more special when served at your barbecue. Crisp and cold iceberg wedges are joined by creamy blue cheese, fresh tomatoes and a slice of grilled bread. Dressing it all is a sweet and creamy vinaigrette. If you like, add crumbled bacon for a BLT Wedge Salad.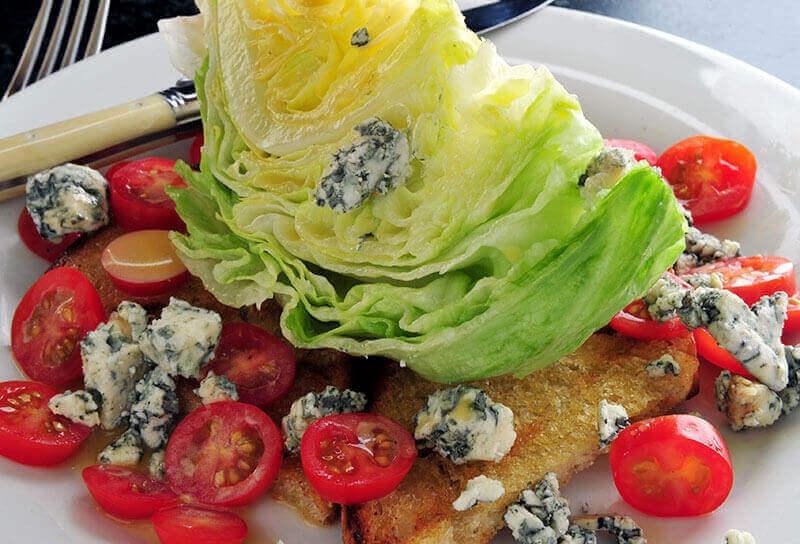 ---
Ingredients
2 tablespoons extra virgin olive oil, plus more for grilling the bread
2 tablespoons Champagne vinegar
2 tablespoons light brown sugar
1 tablespoon mayonnaise
6 thin slices country bread
Fine sea salt
1 head iceberg lettuce, cold
1 pint grape tomatoes, sliced
3 to 4 ounces good quality blue cheese, crumbled (I use Maytag)
Directions
Prepare the grill for direct grilling over a medium-hot fire.
Whisk together the first three ingredients until the mixture emulsifies and the sugar is dissolved. Whisk in the mayonnaise. Cover and refrigerate until use.
Brush the bread slices with olive oil on one side. Season with sea salt. Grill the oiled side of the bread until nicely marked but still soft, about 2 minutes per side.
Slice the head of lettuce into six wedges. Rinse clean and pat dry. Remove the core from the base of each wedge.
Plate each salad by first laying down a slice of grilled bread. Add a wedge on top. Sprinkle with tomato slices and blue cheese. Re-whisk the dressing and drizzle it over the top. Serve immediately while still cold.