Recipes
Cranberry Pear Galette
A galette is like a cross between a pie and a rustic tart. They are delicious and casual pastries, and I think they work fantastically on the grill. This dessert gives a strong nod to traditional holiday flavors, combining tart cranberries with sweet pears and apples as well as cinnamon, cloves and nutmeg. We slice the fruit thinly so that the pastry cooks quickly.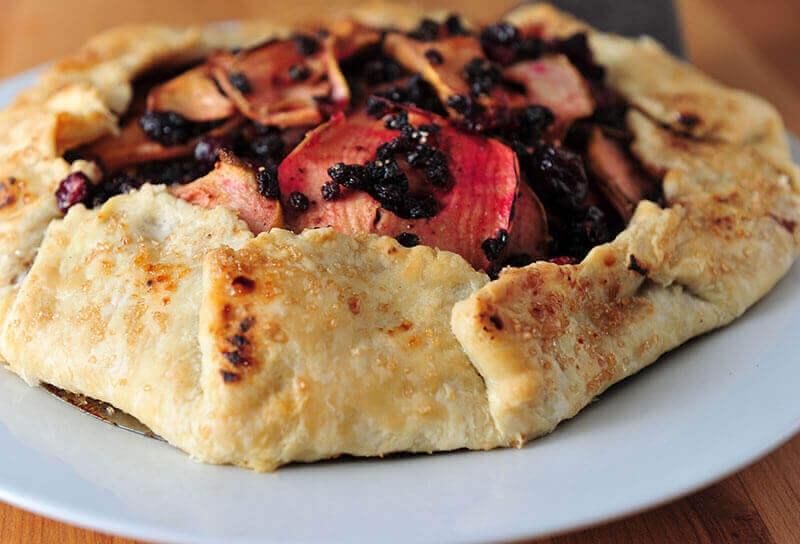 ---
Ingredients
Galette dough recipe ( I like the one from Lindsey Shere via Food & Wine)
1/4 cup light brown sugar
1/4 cup amber honey
1/4 cup freshly squeezed lemon juice
1/2 teaspoon ground cinnamon
1/2 teaspoon vanilla bean paste (or vanilla extract)
1/4 teaspoon ground cloves
1/4 teaspoon freshly grated nutmeg
1 cup frozen cranberries, thawed and drained
1 d'anjou pear
1 fuji apple
1/2 cup dried currants
Turbinado sugar (or Sugar in the Raw) for sprinkling on the crust
1 cup apple wood chips (1/2 cup soaked, 1/2 cup dry) for a foil smoking envelope
Directions
Prepare the galette dough recipe, and let chill in the refrigerator for 1 hour according to the instructions.
Prepare the grill for indirect grilling at 400°F with wood smoke from a foil smoking envelope.
Combine the sugar, honey, lemon juice, cinnamon, cloves, nutmeg and vanilla paste in a small saucepan and set over medium heat. Bring to a simmer and reduce the mixture to a thickened syrup, about 20 minutes. Add the cranberries and simmer for about 10 minutes more. Remove from heat.
Core the apple and pear. Slice them into rings 3mm thick using a sharp mandolin. I like to keep the skins on.
Roll the dough out between 2 sheets of parchment paper until it is 11 inches in diameter. Transfer from the paper to an aluminized steel half-sheet pan lined with a Silpat cookie sheet liner. Keeping at least 1 inch away from the edges, lay down a couple layers of pear intermixed with apple, add some currants and then pour over 1/3 of the cranberry sauce mixture. Repeat 2 more times, using most, if not all, of the filling ingredients. Fold over the edges of the dough around the filling, gathering and crimping as you go to contain all of the filling in the center. Sprinkle the top of the dough with a little turbinado sugar.
Transfer the sheet pan with the galette to the indirect cooking zone, close the hood, and cook for about 45 minutes or until the crust is golden. Remove from the grill. Lift the Silpat out of the baking sheet. Let the galette cool on the Silpat on a cooling rack. Use a large grill turner to transfer the galette from the Silpat to a serving platter. Serve at room temperature.