Recipes
Corned Beef Burgers with Wilted Cabbage Slaw
Cured and spiced brisket is the centerpiece of many Saint Patrick's Day celebrations. It also makes for burgers that are incredibly tender and flavorful. And rather than pairing our corned beef with the traditional boiled cabbage, we're topping our burgers with a Wilted Cabbage Slaw. The slaw's lightly sautéed green cabbage and pickled onions add a little crunch to the mix, while a touch of horseradish and whole-grain Dijon mustard really amps up the flavor. Lightly toasted steakhouse rolls and melted sharp Swiss cheese finish things off.
This time of year most markets stock corned beef brisket vacuum-packed with spices. The beef is usually sold in 4-pound packages and above. Simply pick one out and ask the butcher to grind the meat and spices for you. Most corned beef briskets of this size will end up with a hamburger grind that is roughly 80% lean.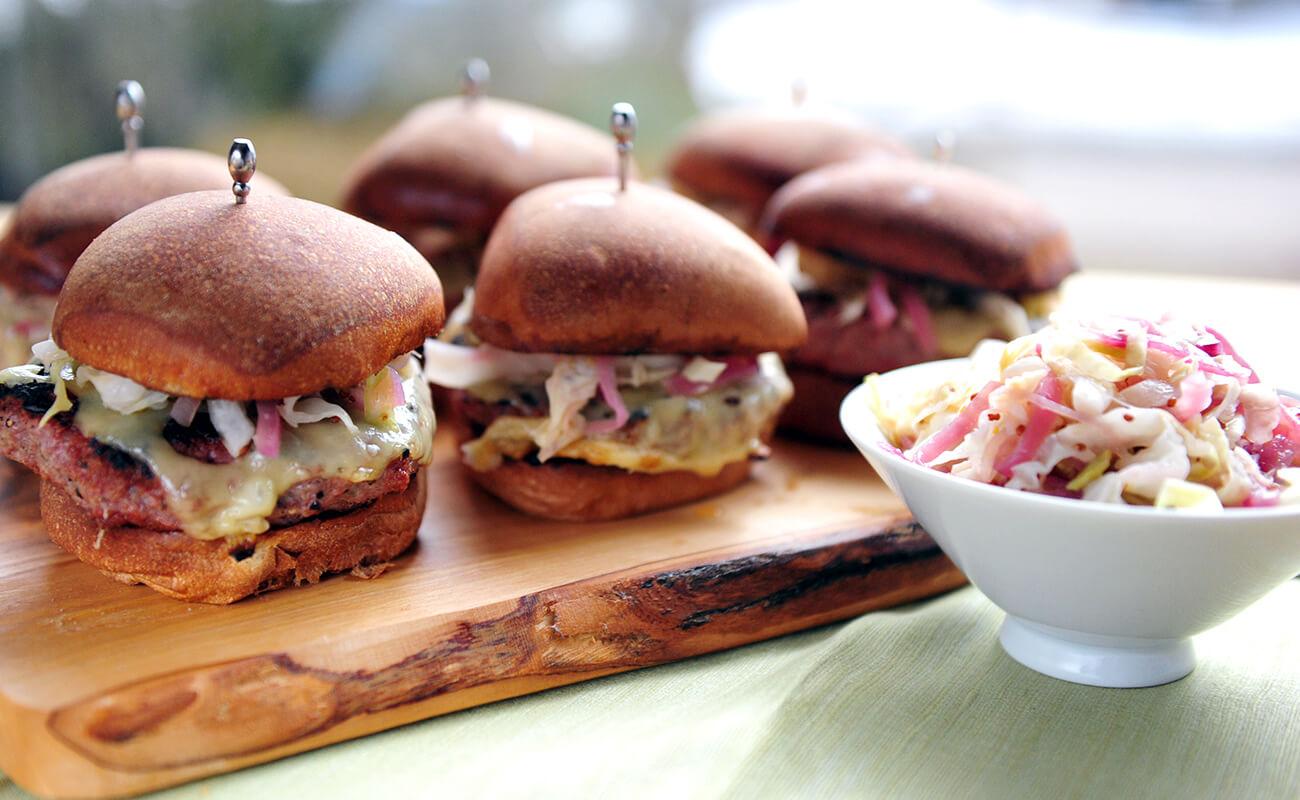 ---
Ingredients
For the Wilted Cabbage Slaw
1/2 cup aged cider vinegar
1/4 cup light brown sugar
1 red onion, quartered and sliced very thinly
1/2 head green cabbage, cored and thinly sliced
1 tablespoon creamy prepared horseradish
1 tablespoon whole grain Dijon mustard
1 teaspoon kosher salt
For the burgers
4 pounds corned beef brisket, ground with its spices
Extra virgin olive oil
Kosher salt
Freshly-ground black pepper
12 sweet steakhouse-style dinner rolls, sliced (if these are not available, use potato rolls)
1/2 cup good quality mayonnaise
12 slices sharp Swiss cheese (about 1/2 pound)
Directions
Combine the vinegar and brown sugar in a large sauté pan. Bring to a boil over medium heat. Add the onion and sauté until it turns bright red and nearly translucent, about 5 minutes. Add the cabbage and stir frequently until wilted, about 2 minutes more. Transfer the cabbage, onions and liquid to a non-reactive bowl, and fold in the horseradish, mustard and salt. Cover and refrigerate for 2 to 6 hours.
Prepare the grill for direct grilling at about 700°F for grilling the burgers, with a cooler zone or warming rack for toasting the bread.
Remove the slaw from the refrigerator and let it warm to room temperature.
Form the ground corned beef into 12 patties that are 1 inch larger in diameter than the dinner rolls. Recess the centers of each patty to allow for even cooking. Brush the patties on both sides with a little olive oil, then season lightly with kosher salt and freshly-ground black pepper. Reserve.
Spread a thin layer of mayonnaise on the inside of each dinner roll. Reserve.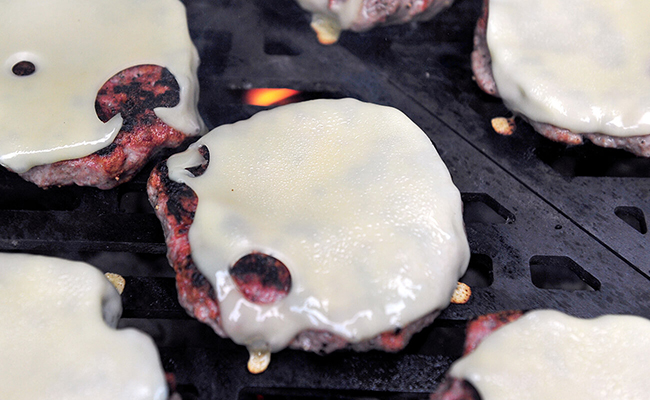 Place the patties on the grill grate directly over the hottest part of the fire. Flip after they are cooked half-way-through (3 to 4 minutes). Top each patty with a slice of cheese, and toast the dinner rolls by placing them on the cooler zone of the grill or warming rack, with the mayonnaise side facing down. Remove the burgers when cooked to medium-well (about another 3-4 minutes on the second side). Place a burger in each roll and top with Wilted Cabbage Slaw before serving.
Enjoy!