Recipes
Chunky Fresh Tomato Salsa
Salsa Mexicana
If you're comfortable and efficient with a knife, the flavors of Mexico's quintessential, eponymous salsa (often called pico de gallo on our side of the border) can be on your table at a moment's notice. But not everyone is a knife wizard, so I devised this version, which utilizes the food processor for the garlic, green chile, cilantro and half the tomatoes. Meaning, that a very good fresh tomato salsa is within everyone's easy reach. Green onions are the easiest to cut (they are the only onion my daughter likes to chop), but feel free to use white or red onion if that's what's available or appealing. At our restaurants, we only make this salsa when our ripe local tomatoes are in season.
---
Ingredients
1 garlic clove, peeled
Fresh hot green chiles to taste (I like 2 serranos or 1 jalapeño), stemmed and halved
2 medium-large (about 1 pound total) round red, ripe tomatoes
1/3 cup (loosely packed) roughly chopped cilantro
1 large green onion, roots and wilted outer leaves removed, chopped into small pieces
1 tablespoon fresh lime juice (or vinegar)
Salt
Directions
Drop the garlic and chile pieces one at a time into a running food processor, letting each get finely chopped before adding the next. Turn off the processor and remove the lid. Cut one tomato in quarters and add it to food processor, along with the cilantro. Pulse 4 to 6 times until you have a coarse puree. Scrape the mixture into a bowl.
Cut the other tomato into 1/4-inch pieces and add to the bowl along with the green onion. Taste and season with lime juice (or vinegar) and salt, usually a generous 1/2 teaspoon. This salsa is best if eaten within an hour or two, but it will keep for a number of hours in the refrigerator.
Riffs on Salsa Mexicana: Chopped raw tomatillos can replace some of the chopped tomato. Cilantro can be replaced or augmented by pungent herbs like Mexican pipicha, pápalo or hoja santa, or saw-tooth cilantro (aka raurau in Asian markets). Any of the lemony or anisey herbs, from lemon verbena to lemon balm and anise hyssop give the salsa a special character. I love the addition of avocado, cucumber and jícama—but not necessarily all at once. The same goes for crisp apple or pear or ripe mango, peach or nectarine.
One of My Favorite Shrimp Dishes: For 4 people, heat a wok (or very large skillet) over medium-high. Drizzle in a little olive, then add 1 1/4 to 1 1/2 pounds peeled, deveined shrimp. Stir-fry until half cooked, about 2 minutes, then douse with the salsa. Stir-fry for another couple of minutes, until the shrimp are just cooked through. Sprinkle on a little extra lime juice and chopped cilantro.

Bistec a la Mexicana: Make the salsa without lime juice. For 4 people, heat a wok (or a very large skillet) over medium-high. Drizzle in a little olive oil, then, in 2 batches, stir-fry 1 ¼ to 1 ½ pounds thin-cut beef (buy sandwich steaks of TK at mainstream grocery stores, bistec at a Mexican grocery); remove to a plate when lightly browned, leaving behind as much oil as possible. Stir-fry the salsa for several minutes, until reduced. Add TK cup water or beef broth, along with the browned meat. Bring to a boil and serve, passing quartered limes and extra chopped green chile and cilantro if you wish.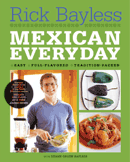 Recipe from Mexican Everyday by Rick Bayless with Deann Groen Bayless.