Recipes
Chipotle Salsa with Pan-Roasted Tomatillos
Salsa Chipotle con Tomate Verde Asado
I've been smitten with chipotle salsa ever since the first time I tasted it on a crusty sandwich (cemita) in a Pueblan market stall 30 years ago. It's three simple ingredients in perfect balance: the smoky spice of chipotle chiles, the lively sweet-edged tang of roasted tomatillo, and the alluring complexity of roasted garlic. I like it spooned on practically everything but ice cream, though I'm particularly fond of chipotle salsa with grilled fish and chicken or beef or… here I go again.
---
Ingredients
3 garlic cloves, peeled
4 medium (about 8 ounces total) tomatillos, husked, rinsed and cut in half
2 canned chipotle chiles en adobo (or more, if you like really spicy salsa), stemmed
Salt
Directions
Set a large (10-inch) non-stick skillet over medium-high heat (if a non-stick skillet is unavailable, lay in a piece of foil). Lay in the garlic and tomatillos (cut side down). When the tomatillos are well browned, 3 or 4 minutes, turn everything over and brown the other side. (The tomatillos should be completely soft.)
Scoop the garlic and tomatillos into a blender jar or food processor with the chiles and 1/4 cup water. Process to a coarse puree. Pour into a salsa dish and cool.
Thin with a little additional water if necessary to give the salsa an easily spoonable consistency. Taste and season with salt, usually a generous 1/2 teaspoon.
Riffs on Chipotle Salsa: You can replace the tomatillos with roasted tomatoes (two 4-ounce plum tomatoes roasted like the tomatillos or ½ drained 15-ounce can fire-roasted tomatoes), but keep in mind that the tomato will tip the flavor toward sweet rather than tangy. A little cilantro, fresh thyme or parsley is always welcome, as is green or white onion—especially if it's grilled. A splash of mescal (or the less-smoky tequila) makes a borracha (drunken) salsa that's dynamite. Instead of pureeing the chiles, you can finely chop them and add them to the pureed (green) base; they'll show up as little red flecks, and the salsa will be less smoky.
Easy Chipotle Saute: In a very large (12-inch) skillet, sauté 1 sliced white onion with 1 to 1 ¼ pounds cubed boneless skinless chicken breast, pork tenderloin, steak, shrimp or firm tofu, until well browned. Add the salsa and stir-fry until everything is done as much as you like. Really good sprinkled with chopped cilantro.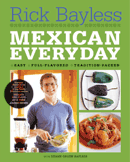 Recipe from Mexican Everyday by Rick Bayless with Deann Groen Bayless.