Recipes
Chipotle Bison Sliders
Bison meat is a lean and healthy alternative to conventional beef, but it can sometimes yield a rather dry burger because of its leanness. The adobo sauce and lime juice mixed into the ground bison in this recipe ensure a moist burger, and the flavor profile is off the charts.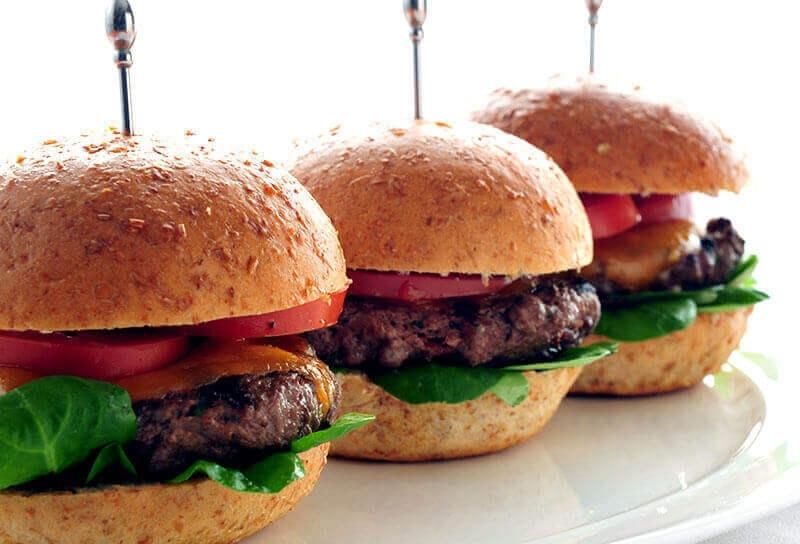 ---
Ingredients
1 1/2 pounds ground bison
2 chipotle chiles (canned in adobo sauce), finely chopped
1 tablespoon adobo sauce
1 teaspoon freshly-squeezed lime juice
1 clove garlic, finely chopped
2 tablespoons chopped cilantro leaves
Extra virgin olive oil
Fine sea salt
12 small slices mild cheddar cheese
12 soft rolls, sliced
Mayonnaise
Mache (or baby greens)
2 plum tomatoes, sliced
Directions
Prepare the grill for direct grilling at 500ºF.
Use your hands to mix together the first 6 ingredients in a medium bowl. Divide the mixture in half, and then into quarters. Divide each quarter into three equal parts to end up with 12 equally sized balls of ground bison mixture. Form into patties appropriate in size for the rolls. Recess the centers of each patty (a great tip from Bobby Flay), and then brush lightly with olive oil and season liberally with salt.
Grill the patties over direct heat until cooked to medium-well (this is important because we have mixed ingredients into the ground meat, working any surface bacteria in along with them), turning once, about 2 minutes per side. When flipped to the second side, top each patty with a slice of cheese. Warm the rolls on the grill for a couple of minutes at the same time.
Spread a very thin layer of mayonnaise on the bottom half of each roll. Top with several leaves of mache, a bison burger and two tomato slices. Finish off with the top half of the roll and serve.