Recipes
Chestnut, Cranberry and Sausage Dressing
A hearty dressing is the perfect accompaniment to roasted meats. The mellow chestnuts are contrasted nicely by the kick of the sausage and the bright flavor of the cranberries.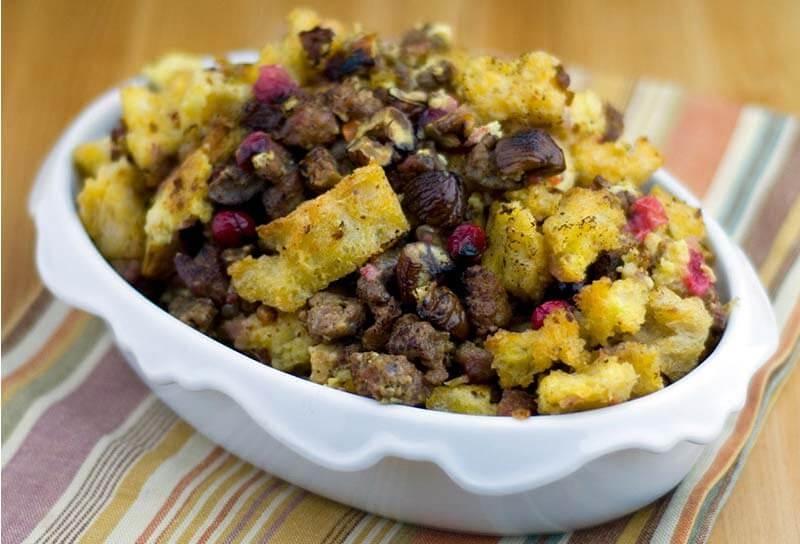 ---
Ingredients
1 pound raw chestnuts
6 cloves garlic, thinly sliced
3/4 pound loose andouille sausage
1/2 cup peeled, chopped carrots
1/2 cup chopped celery
1 cup chopped sweet onion
4 cups sourdough bread, crust removed and torn into rough, 1-inch cubes
1 cup fresh cranberries
3/4 cup vegetable stock
1/2 cup heavy cream
2 eggs
1/4 cup melted butter, plus extra for greasing the roasting pan
Directions
To roast the chestnuts, prepare a grill for indirect cooking at about 400°F. Use a paring knife to cut an 'X' into one end of each chestnut. This will make the chestnuts easy to peel after roasting. Be certain to cut through both layers of the skin.
Place the nuts in a single layer on a cookie sheet in the indirect cooking zone and roast for 20 to 30 minutes, until the skins are peeling back on their own. I like to err on the side of over-roasting for a richer flavor rather than under-roasting. Peel both skins off the chestnuts and quarter them.
Cook the sausage and garlic in a pre-heated skillet over medium heat until browned and cooked through. Remove with a slotted spoon and reserve. Add the carrots, celery and onion to the rendered fat in the pan.
Cook until tender and the onions are translucent. Stir the sausage and garlic back into the pan and heat thoroughly to help meld the flavors. Transfer, including some of the fat, to a large bowl and reserve.
Discard the excess fat. Add the bread, cranberries and chestnuts to the bowl and gently toss together.
In another bowl, whisk together the vegetable stock, cream, eggs and butter. Pour the mixture over the bread mixture and gently mix together.
Pour into a greased, 12-inch cast iron skillet or other grill-safe roasting dish 12-inches round or 9 x 11. Bake in the indirect zone at 400°F for about 45 minutes, or until the tops of the bread pieces are crunchy and the cranberries are bursting.
Why dressing and not stuffing? More often than not, the use of stuffing leads to an overcooked roast or bird. The stuffing must be cooked to the safe temperature required for the meat because the stuffing is contaminated by the raw meat when you put it into the cavity. Heating the stuffing all the way through requires additional cooking time, which leads to an overcooked roast or bird. So, I like to prepare dressing instead. You can stuff the roast with dressing after the roast has been cooked.