Recipes
Cherry Hazelnut Pesto Rolled Leg of Lamb
A quick and easy pesto comes together in the food processor to add festive flavor to a rolled leg of lamb roast. The impressive presentation belies the simplicity of this recipe. Add a little cherry wood smoke on the grill for even more amazing flavor.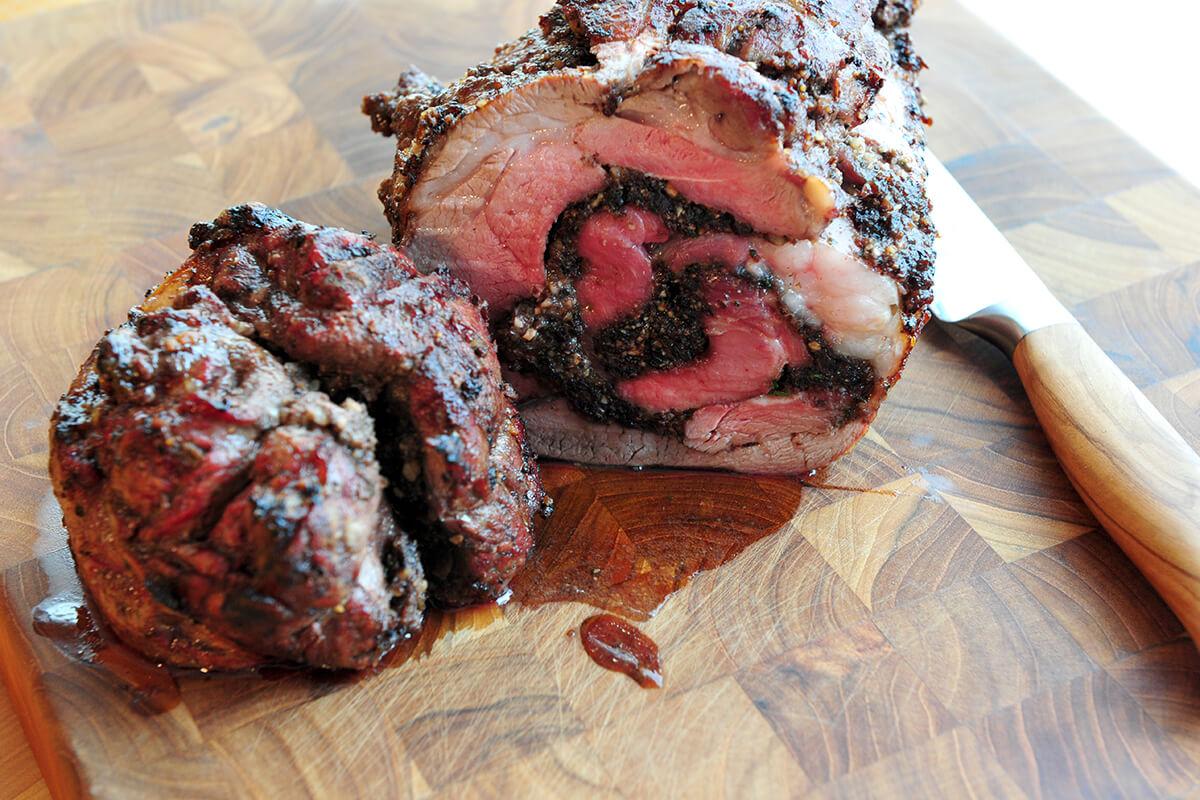 ---
Ingredients
For the Cherry Hazelnut Pesto
3/4 cup roasted hazelnuts (We bought raw hazelnuts and roasted them in a cast iron skillet over medium heat for about 20 minutes)
3/4 cup unsweetened dried cherries
1/2 cup loosely-packed flat parsley leaves
2 tablespoons clarified butter, melted (We use Indian-style clarified butter called Ghee. To make your own, check out this info from Alton Brown. Make some extra to use in this Sliced Sweet Potato Roast.)
2 tablespoons extra virgin olive oil
1 teaspoon fine sea salt
1 teaspoon coarse black pepper
For the roast
5 pound boneless leg of lamb
Extra virgin olive oil
Fine sea salt
Freshly-ground black pepper
Butcher's string
Directions
Prepare the pesto by combining all ingredients in the food processor and pulsing until it reaches a fine texture.
Prepare the grill for indirect grilling at 450°F. If desired, prepare cherry wood chips for smoking (recommended).
Trim excess fat from the outside of the boned leg of lamb. Open the leg flat (with the outside of the meat facing down) to evaluate the consistency of the thickness (or lack thereof). For easier rolling, reduce the thickness of larger areas by butterflying them from the center outward. Slice from the center, being careful to stop about 1 inch from the outer edge, then lay out the sections. Then, place a zip-top freezer bag over the top of the meat and pound it to a consistent thickness. We really like this reversible meat tenderizer to get the job done.
Spread the prepared Cherry Hazelnut Pesto onto the meat, keeping roughly 1 inch from all edges. Roll the meat tightly from the narrow end toward the wide end, and then tie securely with butcher's string every couple of inches. Brush the outside of the meat with olive oil and season liberally with salt and freshly-cracked black pepper.
Place the rolled lamb directly on the grill grate in the indirect zone, and roast with the hood closed (most of the time) until an instant-read meat thermometer inserted into the center reads 130°F for medium rare. That should require about 1 hour and 15 minutes roasting time. We suggest turning and rotating the roast every 15 minutes.
Remove the lamb from the grill and let rest on a carving board for 10 minutes before removing the butcher's string and slicing to serve.