Recipes
Charcuterie Pizza
This pizza is amazing! Cheese and cured meats are not new to pizza (think pepperoni pizza), but great cheese and great cured meats can elevate pizza to another level. In particular, the buttery and nutty Campo de Montalban makes an incredible contribution. The pork pate exterior becomes mouth-wateringly crisp from the high heat of the pizza oven. You can follow these specific ingredients, or use the leftovers from almost any meat and cheese board.
Serves One 11 to 12 inch pizza
---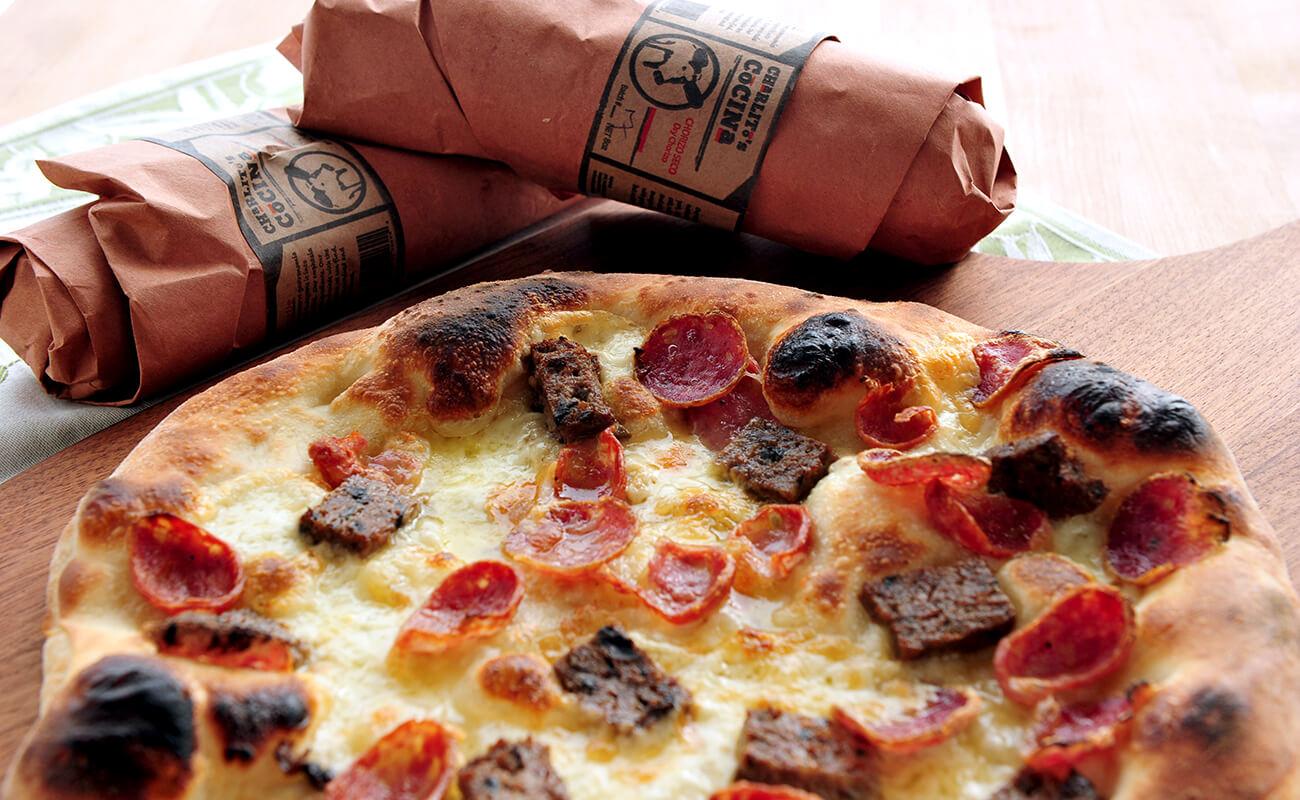 ---
Ingredients
1/2 batch White Wine Pizza Dough, about 14 ounces
1 ounce triple cream French cheese (I used Délice de Bourgogne)
1 ounce Campo de Montalban, cut into 1/2-inch cubes (this is a Manchego-like cheese, but made from a blend of sheeps', cows' and goats' milk)
1/2 ounce wild boar salami (I used Creminelli brand)
1/2 ounce truffle sausage (I used Charlito's Cucina)
1 ounce pork pate
Extra virgin olive oil
Directions
Prepare the outdoor pizza oven or grill for cooking pizza
Form the dough to roughly a 12-inch pizza crust. Depending on your personal preference, place the dough on a pizza peel with enough flour or corn meal beneath to allow the pizza to slide easily — or assemble your pizza on the work surface and then slide the peel underneath at the last minute. Either way, the less time the dough spends on the peel, the less likely it is to stick.
Top the dough with dabs of the triple-cream cheese, plus the Campo de Montalban and meats. Drizzle with olive oil. Transfer to the oven or grill and cook until the crust is done and the cheese is thoroughly melted. Cooking in a hot pizza oven will take less than 3 minutes. Cooking in a conventional oven at 500⁰F or on a grill will require closer to 10 minutes.
Enjoy!