Recipes
Cedar-Planked Brie Crostini with Apples and Thyme Honey Sauce
The secret is in the sauce: herbaceous thyme is blended with sweet honey and earthy hazelnut oil then balanced with the bright acidity of lemon juice. Good with bread, great with apples and amazing with melted triple-cream brie that's been kissed with a hint of cedar smoke. Combine all four ingredients onto small crostini and make this simple appetizer that is hard to forget.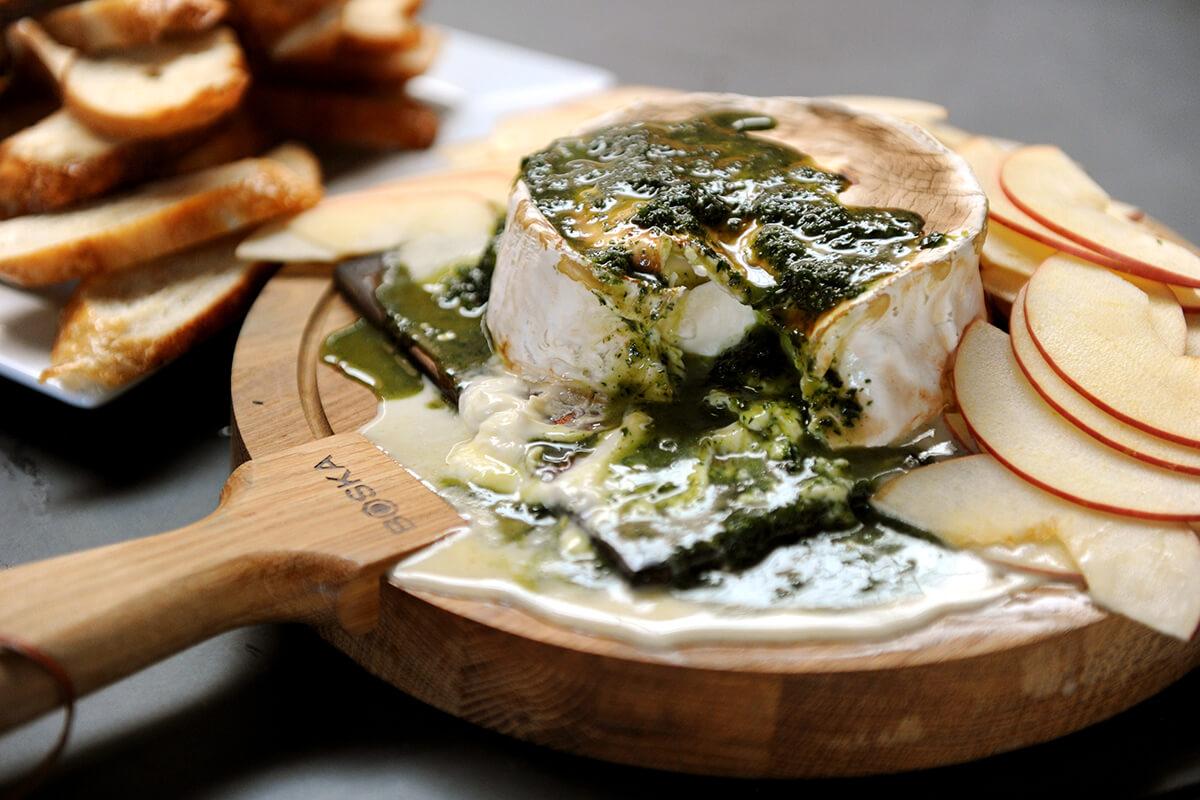 ---
Ingredients
Leaves picked from 24 sprigs of fresh thyme, about one ½-ounce package
2 tablespoons fresh lemon juice
3 tablespoons honey
Hazelnut oil
Fine gray sea salt
1 French baguette
2 Fuji apples
1 wheel triple-cream brie, about 20 ounces
1 cedar plank
Directions
To prepare the Thyme Honey Sauce, combine the thyme leaves, lemon juice and honey with 2 tablespoons of hazelnut oil and a pinch of salt in a small bowl. Process to a smooth emulsion using an immersion blender. Cover tightly and refrigerate until use.
Prepare the grill for indirect grilling with an air temperature of 400°F.
Cut the baguette on the bias into thin slices. Brush both sides of each slice with hazelnut oil, then season one side with salt.
Toast the bread in the indirect zone of the grill with the lid closed until crunchy on the outside, about 3 minutes. (To do this efficiently, I place all the slices on a couple of wire cooling racks and place the racks in the grill.) Reserve.
Cut the apples into thin slices. Reserve.
To prepare the cheese, lightly brush the top of the cedar plank with hazelnut oil. Then prepare the oven to cook at about 400°F. Place the oiled plank on top of a wire cooling rack, and the wheel of brie on top of the rack. Place the rack in the center of the oven. Cook, rotating once or twice, until the board is smoking and the cheese is melted, about 6 minutes.
To serve family style, transfer the hot plank to a heat-proof serving tray. Use a knife to break open the rind on the cheese. Top the cheese with Thyme Honey Sauce and serve with the crostini and apples. Your guests can lay a slice of apple on top of a slice of bread and then use the bread to scoop up a combination of melted cheese and sauce.
To serve in a less messy manner, assemble the crostini before serving. Add a slice of apple to a slice of bread. Spread melted cheese on top and then drizzle with Thyme Honey Sauce.
Note: You can also melt the cheese in a grill. Place the wheel of brie in the center of the oiled plank, then transfer the plank to the indirect zone of the grill. Close the lid and cook the plank is smoking and the brie is melted (the sides of the wheel begin to collapse), about 10 minutes.