Recipes
Cedar-planked Barbecue Shrimp
Cooking on cedar planks infuses foods with a distinctive, aromatic flavor, and the pizza oven's intense heat makes it ideal for plank cooking. Because the heat radiates from both above and below, you get maximum flavor from the plank, while also cooking the food quickly using the broiler effect. In fact, when your food is cooked quickly enough, there is no need to soak the plank.
For this recipe, we are keeping things simple, but if you're looking for an additional dish to add to your plank cooking repertoire, you might want to check out our video with Mexican Street Corn and Macaroni-stuffed Poblano Peppers roasted alongside the barbecue-rubbed shrimp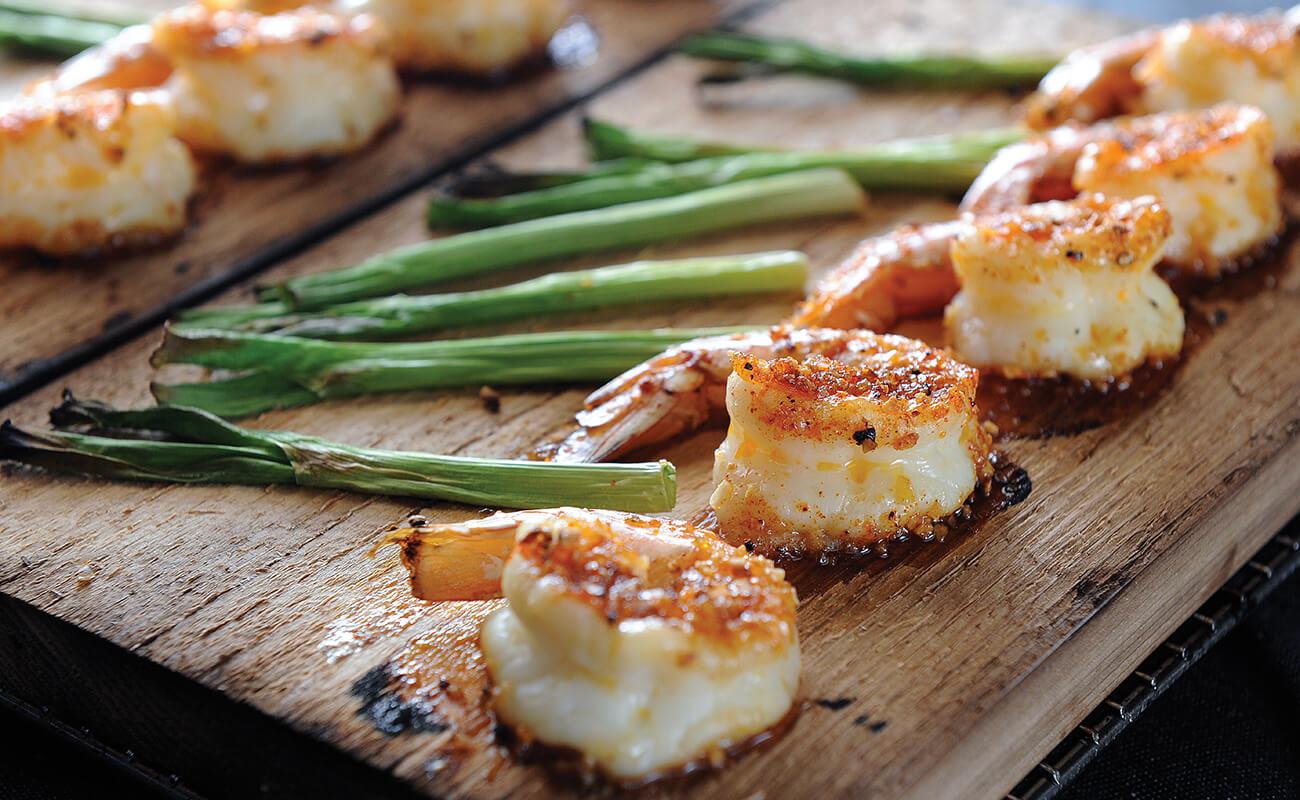 ---
Ingredients
1 tablespoon chopped dried garlic
1 tablespoon chopped dried onion
1/4 cup turbinado sugar
1 tablespoon kosher salt
2 teaspoons paprika
1 teaspoon coarsely-ground black pepper
10 large shrimp, 9 to 12 count, shells on
2 bunches green onions
2 cedar planks, 7 inches X 12 inches X 3/4 inch thick (see tip at the end of the recipe)
Metal cooling rack(s)
Directions
Preheat the Artisan Fire Pizza Oven with both burners on HIGH.
To make the barbecue rub, combine the onion and garlic in a spice mill and grind to the desired texture. Grinding the chopped spices yourself makes for a more flavorful rub. Add the sugar, salt, paprika and pepper.
Peel and devein the shrimp, leaving the tails on. Partially butterfly the shrimp while you are deveining them.
Season the shrimp liberally with the barbecue rub.
For maximum flavor, you can lightly pre-char the boards quickly on a hot grill. This step is optional.
Arrange the shrimp on the cedar planks. Trim the green onions and arrange them alongside the shrimp.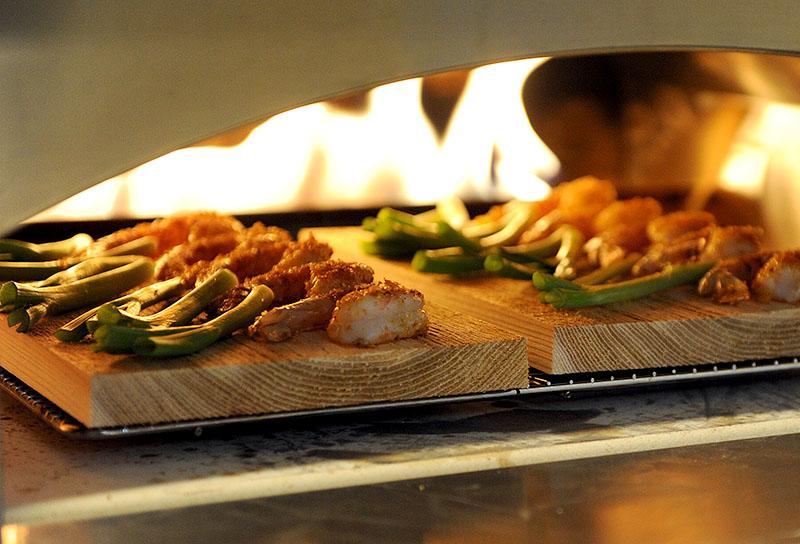 Cedar-planked shrimp roasting in the Artisan Fire Pizza Oven
Place the cooling rack(s) in the pizza oven, and position the cedar planks on top of the rack(s). This helps keep the boards from burning too quickly.
Cook for 12 to 15 minutes, rotating the boards several times for even cooking. Keep a spray bottle of drinking water handy to douse any flames that might erupt at the edges or corners of the board.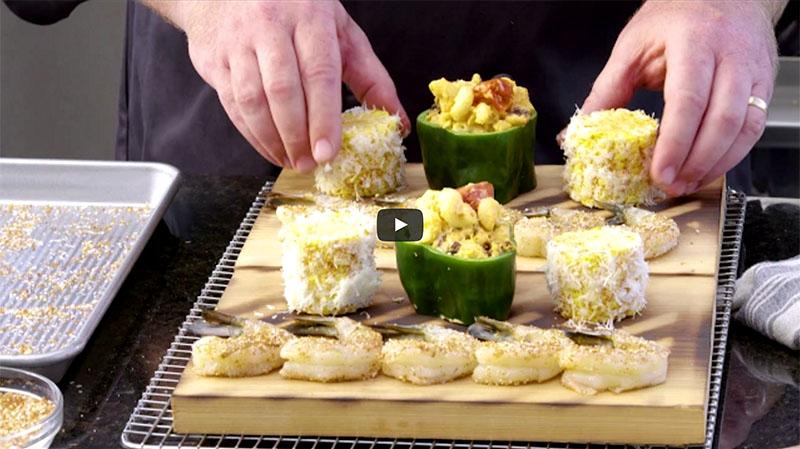 Tip: Most pre-packaged cedar planks for cooking are thinner than we like to use. For cedar planks (and any other type of wood) we prefer to purchase 1x8 boards (a 1x8 is actually ¾ inch thick and 7 inches wide), and cut them down to the desired length. If you don't have a saw at home, the hardware store or lumber yard will usually be happy to cut them for you.