Recipes
Caramelized Brussels Sprouts
I recently had the pleasure of dining at The Tipsy Pig in San Francisco. Their Caramelized Brussels Sprouts appetizer was a real stand out. This dish, inspired by the original, makes a great side for a festive meal. My take emphasizes the crispy leaves from the original. Bacon, Romano cheese and Tuscan bread make it a hearty dish with a "gravitas" that is appropriate for the season.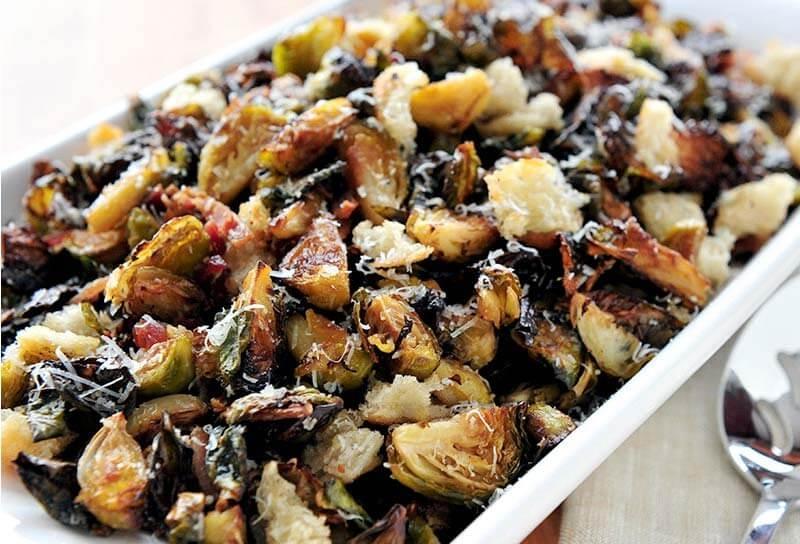 ---
Ingredients
2 pounds small Brussels sprouts, rinsed and dried
1/2 pound bacon, cooked crisp and chopped coarse, drippings reserved
3 tablespoons extra virgin olive oil
Fine sea salt
1 generous slice Tuscan bread from a day-old loaf
Freshly cracked black pepper
1/4 cup finely grated Pecorino Romano cheese
Heavy aluminized steel sheet pan or other grill-safe pan. (Make sure pan does not have a non-stick coating.)
Directions
Prepare the grill for indirect grilling at 500ºF.
Remove and discard the base of each sprout. Quarter lengthwise and place in a large bowl. All loose leaves also go into the bowl. These will become the crispiest bits.
Use a fork to whisk together 2 tablespoons bacon fat with 3 tablespoons olive oil. Add 3 tablespoons of the oil mixture to the Brussels sprouts and toss to thoroughly combine. Reserve the remaining 2 tablespoons.
Gently tear the bread into very small pieces, compressing it as little as possible, until you have 2 cups worth. Toss with the remaining oil mixture and season lightly with salt.
Spread the sprouts and leaves into a single layer on a heavy-duty aluminized steel sheet pan. Season generously with salt and pepper, and place it in the indirect grilling zone. Roast, tossing the sprouts once, for 10 to 15 minutes or until the edges of the quartered sprouts are thoroughly browned. Mix in the bacon and bread and continue roasting until the bread is crisped and the sprouts are caramelized, about 15 minutes more. Sprinkle on half of the Romano cheese and toss again. Remove from the grill, transfer to a serving bowl and top with the remaining cheese.