Recipes
Caramel Strawberries with Grilled Pound Cake and Crème Fraîche
Grilled pound cake is delicious, but it can be a little bit challenging. At Barbecue University a couple of years back, Steven Raichlen mentioned that he had experimented quite a bit and found that Sara Lee pound cake held together the best by far. I haven't tested different recipes myself, but I can confirm that Sara Lee fits the bill. You can find it in the frozen desserts section of the supermarket.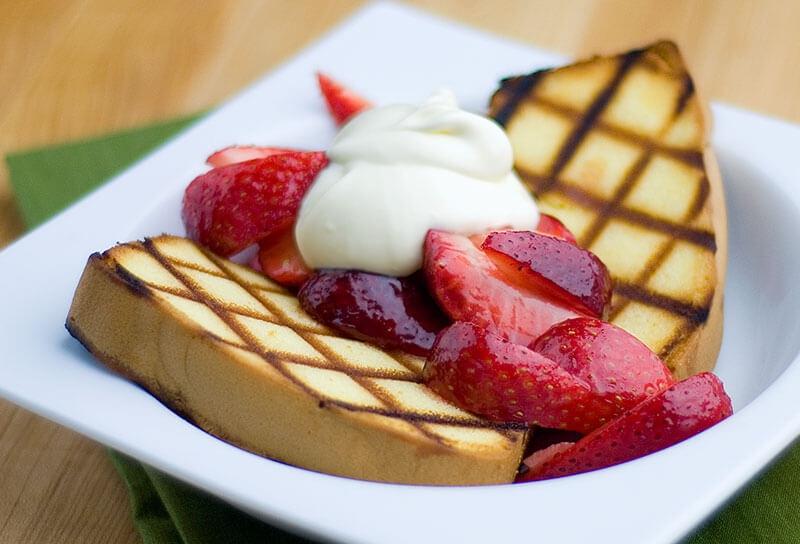 ---
Ingredients
8 slices Sara Lee pound cake, thawed
About 4 tablespoons melted butter
1 pound fresh strawberries, sliced
1/3 cup caramel sauce, hot
About 6 ounces crème fraîche
Directions
Prepare the grill for direct cooking at about 500°F.
Brush both sides of each slice of pound cake with melted butter. The butter will help keep the pound cake from sticking to the grill. If you don't have anyone assisting you, combine the strawberries with the hot caramel sauce. Otherwise, they should be combined as the pound cake is coming off the grill.
Grill the pound cake over direct heat until nicely marked and heated through, about 1 minute per side. I find it best to use tongs for handling the pound cake on the grill.
Plate the pound cake (2 slices each) and top with the warm strawberry mixture and a dollop of cold crème fraîche.