Recipes
Cantaloupe Prosciutto Kebabs
Sweet and summery cantaloupe meets the heat of the grill for nicely caramelized sugars contrasted by salty, cured-pork. This simple appetizer is sure to be a hit every time you serve it.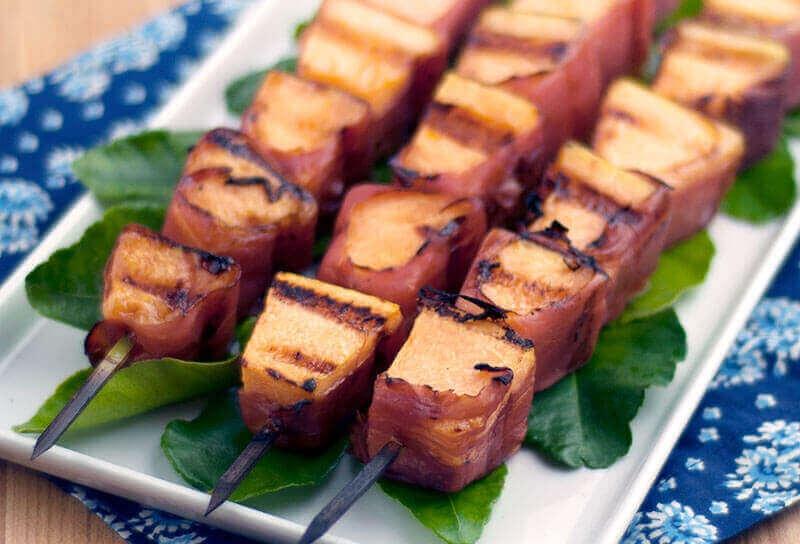 ---
Ingredients
1 large cantaloupe
4 to 5 ounces thinly-sliced prosciutto (or Speck, see note)
6 skewers, about 8 inches long
Directions
Preheat the grill for direct grilling at about 500°F.
Cut the cantaloupe into cubes, roughly 1-1/2 inches in size. Slice the prosciutto into strips about 1 inch wide. Wrap one piece of cantaloupe at a time with one slice of prosciutto, and slide it onto the skewer so that the skewer holds the prosciutto in place.
Continue this process until you have completed 6 skewers. Grill over direct heat for a couple of minutes on each of the four sides, until the cantaloupe is nicely marked and the edges of the prosciutto are crisped. Serve warm.
Note: Speck is a version of prosciutto that is smoked in addition to being salt cured. For this recipe I used Speck La Quercia Americano, made in Norwalk, Iowa. The apple wood smoke flavor added nicely to the dish, and the Speck was quite a bit leaner than traditional prosciutto.