Recipes
Burnt Lemon Martini
With the tartness of a lemon tempered by the caramelization process and balanced with honey, this martini delivers sophisticated flavors... and you get to use your grill (or a chef's torch) to blacken the lemons.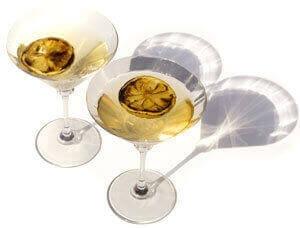 ---
Ingredients
6 ounces premium vodka
2 lemon slices
3/4 ounce honey syrup (recipe follows)
Ice
Directions
For the honey syrup:
Combine 1/4 cup sugar, 1/4 cup water and 2 tablespoons clover honey in a small saucepan. Bring to a simmer over low flame, then remove from heat. May be kept covered in the refrigerator for up to two weeks.
Grill the lemon slices over direct, high heat until blackened over about 50% of the surface on each side.
Gently rub the grilled lemon slices around the inside of two martini glasses. Place one slice in each glass.
Combine the vodka, ice and honey syrup in a cocktail shaker and shake vigorously for 1 minute. Strain into the glasses over the lemon slices and serve.